Disclosure: This post may contain referral/affiliate links.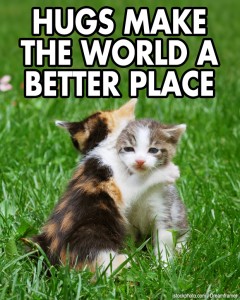 Today, Friday Sept. 30th (2011) is Hug a Vegetarian Day.  Did you know that by choosing to go meat free it will save the lives of about 100 animals per year?
Sure makes me want to send some hugs to a few awesome vegetarian bloggers I follow on a regular basis.
Hugs go to these awesome ladies:
Emily from Daily Garnish. Take a peek at Emily's fabulous recipes.
Caitlin from Healthy Tipping Point.  Check out some of her unique and fun lunches and dinners.
Lindsay from Happy Herbivore (she's vegan). Her book is on my wishlist.
Short and sweet today, just wanted to give a shout out.  I can't believe it's been over two years since I became a vegetarian (although I still eat fish/dairy/eggs). I'm always on the lookout for more meal ideas.
Do you have any favorite vegetarian blogs?