Disclosure: This post may contain referral/affiliate links.
It's that time again, Menu Plan Monday but this week it's hosted at 5 Dollar Dinners.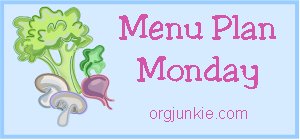 Monday-
Spaghetti w/turkey sausage and homemade sauce
Tuesday-
Gumbo w/scallops, seafood mix and biscuits
Wednesday-
Penne pasta w/homemade sauce (veggies, crushed tomatoes, edamame, tofu for me, etc.)
Thursday-
BBQ Chicken, potatoes, veggies
Friday-
Tuna & Soup
What do you have on your menu plan this week?