Disclosure: This post may contain referral/affiliate links.
Please help me welcome April, our guest blogger for today.  Wait until you read her story. Very inspiring!
Take it away, April…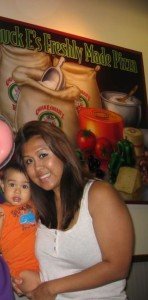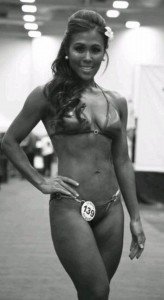 I am April Chilcoat … mom, wife, daughter, sister, accountant, competitor and friend. Like many of my readers, I have struggled with weight loss management all my life. I have come to realization that I am not one of the "lucky" gals who can eat whatever she wants, in whatever portion and remain "skinny" (skinny fat). In all honesty, after learning all I have learned knowledge of, I would not want to be skinny, nor do I classify it as "lucky." Sooner or later your metabolism will slow down and bad eating will catch up to you.
Growing up in the Filipino culture, food was an integral part of our parties. Much of the celebration revolved around enjoying my ethnic dishes, while chatting away about cultural jubilee. If you have ever seen My Big Fat Greek Wedding, multiply that by 3 and that's my awesome Filipino family.
Unfortunately, those delicious infinite buffets encouraged overly indulgent servings. So, I was always the biggest AND shortest girl in class. Growing up, I would actually borrow large polo shirts from my Dad to hide as much body fat as I could. I often wished that I was more involved in sports, and perhaps that would have encouraged a healthier lifestyle. It wouldn't be until age 24 that I discovered the benefits of clean eating and strength training, but by then my childhood had passed.
At age 24, my then kickboxing teacher introduced me to Oxygen Magazine and asked me to attend a Cathy Savage Camp in Boston, a preparation camp for figure, fitness and bikini women aspiring to be future competitors. There, I learned how clean eating was 80% of the equation and cardio/strength training 20%. I went to two fitness shows and fell in love with the sport! At age 25, I married my prince charming, Jason, and at age 29, we had our first child, Alexander Lee. However, despite the knowledge I had gained about clean eating, I still manage to gain 65lbs in my first pregnancy and day of labor was at 210lbs, my heaviest.
14 months later, June of 2010 at 170lbs, I decided to give clean eating another shot and the whole 80/20 equation. I joined a gym, hired a personal trainer and visited my local MaxMuscle Store. In just 10 months, I had lost over 45lbs! All through tons of reading about clean eating and 5 days of exercise, mixing cardio and strength training. No diet pills! After losing the 45lbs, I decided that I was ready to set my next goal, which was to compete in my first fitness competition.
Through 13 weeks of training/dieting with MaxMuscle, I was able to get down to 8% body fat at 115lbs day of show. During the preparation stage, I learned more information on how to eat "clean" (I was not consuming enough protein nor eating enough) and how to effectively manage my time so that I could allocate time to my career, family and workout schedule. It was an incredible experience, and I enjoyed working with MaxMuscle along the way.
I want all of my readers to know that with the right support group of family and friends around you, proper nutritional coaching, a mix of cardio/strength training and a positive attitude along with belief in yourself, you too can achieve what I have achieved. My heaviest was at 210lbs April 2009, down to 115lbs day of my first fitness competition (August 2011); anything is possible.
I also want to add that I do not believe in "magic" diet pills. To me, this is just an "easy" way out to reaching your goal(s). Once you stop taking these pills, you will most likely return back to point A and these pills couldn't possibly be good for your health. I always say that society wouldn't need so many pills to take once a day if one's diet is just made up of clean foods; a mix of lean proteins, complex carbs and healthy fats for which several vitamins can be absorbed. It worked for me and it can work for you.
Please continue to visit my blog for healthy, clean recipes and other fun fitness stuff. I am your typical average working mom who lives the daily grind too and works hard to make sure I fit my workouts and preparation of clean foods in the that mix!
Quotes I live daily by:
"You can't out train a bad diet."

"If it is important to you, you will find a way. If it is not, you will find an excuse."
I am here to support you!
Cheers,
Mrs. Chilly
You can find April on Facebook and on her fitness journey blog.