Disclosure: This post may contain referral/affiliate links.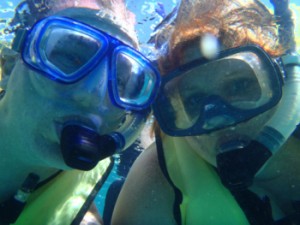 We got back from St. Thomas last weekend and I really slacked this week.  While we were there, I did not do any formal exercise as I had planned.  The Marriott did have a real nice workout room but we were gone pretty much from morning to night with excursions like snorkeling, swimming with sea lions and turtles and more.  You can read about our experience on the Marriott blog.  We spent most of our days outdoors in the water and walking around so we counted that as exercise!
Got back to Chicago and we were exhausted so we have been trying to catch up on sleep and getting ready for the next few trips that are planned.  So here are the workouts that did happen this week.
Monday-Tuesday- Nada
Wednesday-
*Elliptical
Time: 15 min.
Miles: 1.0
Calories burned: 243
Thursday-Friday- Nada
Saturday-
*Treadmill
Time: 45 min.
Miles: 2.40
Calories burned: 655
*Upper body/core work
Time: 30 min.
#HBBC points= 3
Totally bombed the Pile on the Miles challenge but the Holiday Bootie Buster Challenge just started yesterday so I'll be trying to stick with that through Jan. 6th.  Check it out and see what you think!
Sunday-Day off
That is a worse week than I thought!  Hopefully you did better *wink*
Have a great week and a very Happy Thanksgiving! I'm thankful we get to spend it with my family.
If you're in the U.S. what do you have planned for Thanksgiving?