Disclosure: This post may contain referral/affiliate links.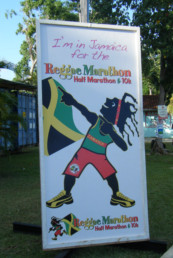 Last year at this time, Kev and I were in Jamaica to participate in the Reggae Marathon half marathon. I'm totally missing everyone right now and wanted to give a shout out to all my friends there right now. Kev and I walked the Reggae half marathon in 2010 and it was an experience we'll never forget.
With a new course for the full marathon, I think the changes are going to be great for everyone! So sad we cannot be there to participate this year. Looking forward to hearing all the recaps and experiences after the race tomorrow.
To be honest, I'm not sure I would walk another half marathon but I wouldn't be opposed to doing the 10k and then volunteering in various ways or just be a spectator cheering on the great mighty peeps participating in the race.
I think they need to bring me on as the official live Reggae Marathon blogger for 2012. That would be a blast now wouldn't it? Did you hear that Chris? ha ha Be sure to keep an eye on the Reggae Marathon blog for updates.
Missing the Reggae Marathon also means we are missing our yearly winter vacation to Couples Swept Away. We were so thankful to at least get to the Caribbean this year on the trip we won from Marriott to St. Thomas, VI. But Couples Swept Away is home to us AND they are one of the big sponsors of the Reggae Marathon which makes me smile. Thanks to Couples Resorts for all you do.
To all racing in the Reggae Marathon…HAVE A BLAST! And don't forget…