Disclosure: This post may contain referral/affiliate links.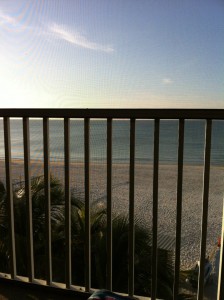 This week was a travel week so I did the best I could considering I also fell down on some gravel here in FL while on my business trip (I know, clutz lol) and hurt my left leg and knee.  I'll survive and it's been a real nice stay here but I'm ready to get home to my hubby and my own bed.  I don't ever sleep very well without him so I'm exhausted.
So here are this weeks workouts:
Monday-
*Elliptical
Time:  15 min.
Miles: 1.05
Calories burned: 256
*Strength/weights upper body
Time: 10 min.
HBBC= 1.5 pts
Tuesday-
*Rebounding
Time: 20 min.
Calories burned: 289
Short on time this week but wanted to make sure I got in some sort of workout.  It was fun bouncing around to some fun music.
Wednesday-
*Treadmill
Time: 20 min.
Miles: 1.15
Calories burned: 306
Thursday- Day off
Friday & Saturday- Walked the beach in Ft. Myers Beach, FL
Sunday- Day off
Need to add the rest of my HBBC points when I get back.  Hoping to get in some workouts this week with family here but Kev and I will be back at our team workouts soon.  I look forward to that!  It's been a while because he has had a bum shoulder.
How did your workouts go this week?