Disclosure: This post may contain referral/affiliate links.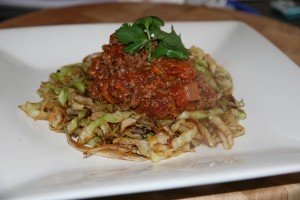 Here is a guest recipe post from my friend Jedha. She is a Paleo weight loss coach.  To be honest, I have no idea what the Paleo diet is but hopefully Jedha will share more about that in another guest post.
We look forward to having her guest post here often.  Please do welcome her to Losing It and Loving It.  We hope you enjoy her recipe!
Bolognaise with Cabbage Noodles
Serves 4-6
Ingredients
1 kg beef mince
1 large onion – roughly diced
2 teaspoons olive oil
2 medium carrots – grated
2 x 400g tins of diced tomatoes
250g-tomato paste
1 teaspoon dried mixed herbs
1-cup water
Cabbage Noodles
4 cups finely shredded cabbage
1-teaspoon olive oil
1 tablespoon of tamari (wheat free soy sauce) – you can also use ordinary soy sauce
Water
Cooking Method
Heat olive oil in pan
Add onion and sauté over medium heat until lightly browned
Add the mince and brown the mince for 10 minutes, stirring regularly to break mince up and stop from sticking to pan
Add grated carrots and herbs and stir to combine well, cook for a further 5-10 minutes or until most of the mince is lightly browned
Add the tinned tomatoes, tomato paste, and ½ cup of water and stir well to combine
Then reduce heat to very low and simmer for 20 minutes stirring on the odd occasion
Add the extra ½ cup of water, stir and let simmer for a further 20 minutes. Again make sure you stir it occasionally
When your sauce is almost ready cook the cabbage noodles for serving
Add the 1-teaspoon of olive oil into a fry pan and heat the pan
Add the cabbage into the pan and begin to sauté the cabbage letting it brown so it gets a tasty flavour.
Sautee for about 5 minutes, stirring regularly and then add the tamari/soy sauce over the top and stir in. It will steam up and the pan will dry out but continue to sauté it like this for a few minutes so it absorbs the smoky, dry flavour.
After a few minutes add a small amount of water to the pan, turn down the heat and let the cabbage noodles simmer slowly until cooked to your desire. You can cook them more if you want them soft or if you like to eat them a bit crispier just cook them less.
Serve the noodles on a plate and top with the bolognaise sauce.
BON APPETIT!
Note: The sauce will keep in the fridge for a few days and you can also freeze it for later.
This recipe is a family favorite at Jedha's house. You can find more healthy weight loss recipes over at Jedha's Paleo Diet Blog.