Disclosure: This post may contain referral/affiliate links.
I was given a great opportunity to review The Engine 2 Diet book.  I chose to review this book because the title immediately brought back memories of the firehouse being my family in my early childhood years.  My dad worked for many years at the fire department.  I also know that my dad and mom have been trying hard to work on losing weight and living a healthier lifestyle so I wanted to read this book and pass it on to my mom so they can see if it would be a diet that would suit them.
AND I have FIVE copies of this hardback book to give away to my readers so be sure to read the review and if you think it's a book you might be interested in reading enter for your chance to win.  Instructions for entering the giveaway are at the end of this review.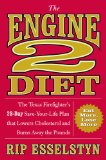 I really enjoyed The Engine 2 Diet book.  In the beginning the author, Rip Esselstyn tells why he decided to create this diet and also shares his personal story.  This is a plant based diet and a 4 week program that will help you reach your health goals.  There are 2 plans available, one is a more gradual approach and the other is for someone who wants to jump right into and go for the full program.
I enjoyed the quick testimonials and pop quizzes that are placed throughout the book.  Exercise is also incorporated into this diet which I was very happy to see and in the book there is an exercise section with images to help you perform a variety of moves.
This is not a program that would fit into our lifestyle right now but it definitely has me intrigued. The book has taught me many ways to eat healthier such as using much less or no olive oil or any other oil for that matter, try more whole grains and legumes and focus on less processed foods.  This diet seems to really focus on lowering cholesterol too.
You can find a lot more great information at their website The Engine 2 Diet.  Watch the film that they provide and you'll have a better understanding about the diet and what the book is about.  My favorite part of the book was the chapter on label reading.  It was a real eye opener.  And the recipe and meal plan section has a bunch of great suggestions, kitchen tips, etc.
GIVEAWAY! I have 5 copies to give away to my readers.  Open only to U.S. and Canada residents. No P.O. boxes.
Here's how to win: CONTEST HAS NOW ENDED

Head on over to The Engine 2 Diet website and tell me one of the most common questions people have about THE DIET or tell me one thing you learned from watching THE FILM.
Extra entries: (separate comment for each entry please)
*Follow me on Twitter and tweet this giveaway (leave the link to your tweet with your comment)
*Blog about and link to this review/giveaway post AND to the Engine 2 Diet website (leave link to your blog post in the comment section)
This giveaway begins March 30th and ends April 6th at 9 PM Central.  Winners will be randomly chosen and announced here on my blog on March 7th.  I will send an email to the winners and you'll have 3 days to reply or we'll re-draw.
Remember this giveaway is for those in the U.S. and Canada.  No P.O. boxes.
If you don't want to wait for the giveaway to end, you can go ahead and purchase a copy of The Engine 2 Diet