Disclosure: This post may contain referral/affiliate links.
Time for Menu Plan Monday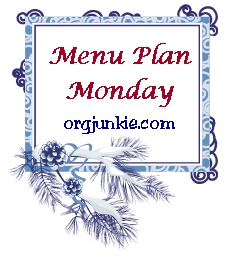 As I type this on Sunday night, we are getting snow here in the Chicago burbs so I thought this Menu Plan graphic would be appropriate.  It's supposed to be SPRING hello!  I just whipped together a menu so we'll see how the week plays out.
Monday-
Tuna & Soup
Tuesday-
Pork Chops, veggie, potato
Wednesday-
Pasta w/spicy Italian turkey sausage
Thursday-
Breakfast for Dinner (eggs, turkey sausage links, biscuits)
Friday-
Possibly have a pre-Easter dinner at our neighbor's house but if not we'll have turkey burgers, veggie, sweet potato fries
What is on your menu plan for the week?
Enter to win a cute apron at my friend Shelly's Shakin & Bakin Recipe blog.