Disclosure: This post may contain referral/affiliate links.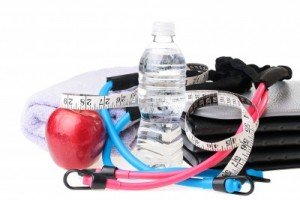 This week, the first week of 2012 was interesting.  I have been sick since New Year's Eve so it the week wasn't too exciting. This post will be short and sweet but I did want to say that I am proud of myself.
If you recall I posted my goals for 2012 and two of them were to keep a food journal AND follow the mantra fitness every day.  Happy to report that I did just that.  Although I was sick, I did very VERY light moves but I did them.
So here's what the week looked like. Again, nothing exciting but there was movement every day ha ha
Monday-
*Exercise ball (Abs)
Tuesday-
*Exercise ball (Abs)
Wednesday-
*Upper body with bands
Thursday-
*Lower body moves (squats, leg lifts, etc.)
Friday-
*Mix of lower/upper body moves
Saturday-
*Upper body moves
Sunday-
*Upper body with bands
Oh and I did my weekly weigh in today. I did not lose but I did not gain either.  Hopefully we'll see a loss next Sunday, that is if my stepdaughter and her hubby have a scale LOL
Now is the time to start kicking it up. Summertime will be here before we know it (it's hard to believe we have not even had snow in Chicago yet).  But the best part about getting in shape for summer NOW is that you can keep it under wraps under all the winter clothing and shock your friends and family when it comes time to shed the winter wear.
It won't be long before you achieve some of your goals. I'm hoping to see a difference in the next eight weeks at least.  Don't forget to mix up your routine every few weeks if not more so you keep things moving along.
Here are some tips to help you to get started now:
* Eat a sensible diet
In the winter, most people want to sit around and graze. Use this time to experiment with new and exciting foods. Try a few winter vegetables and fresh fruit. Use the fruit them in smoothies or on top of hot cereal. Since you are not moving much on some days, use this opportunity to cut down on your meals and watch your portions. Add frozen chopped vegetables to your soups to beef up (no pun intended) your nutrient count.
* Get outdoors and get active
Walk or jog in the crisp air. Ride bikes, go snowboarding, skiing and even hike with family or friends.  Just dress accordingly and stay warm!
* Go to the gym or recreation center
When the weather gets too cold outside, bring it indoors. Take a fun fitness class or play basketball, swim or get your workout on. The cold temperatures should not discourage you to workout.
and lastly…
* Buy that bathing suit
You can get a lot of good deals now on bathing suits because it is off season. Use it as a measure of how well you are doing in your program and to give you the incentive to keep going.  You can even try it on each month to see how much closer you are to your goal.
Hope these tips help.
Have a great week!