Disclosure: This post may contain referral/affiliate links.
Two delicious and simple  smoothie recipes
Blueberry Green Smoothie
1 c frozen blueberries
2 handfuls of spinach
1 scoop protein powder
1 c water (cold)
2 tbsp Chia seeds
Ice
This is probably one of my favorite healthy smoothie recipes yet. I forgot to add ice so I had to let it sit in fridge for a bit and while in there it thickened because of the addition of Chia seeds (they expand in liquid). So what does one do when it's too thick to drink?  Pour it in a bowl and eat it up with a spoon.  Adding a bit of granola on top makes a nice touch. Yum!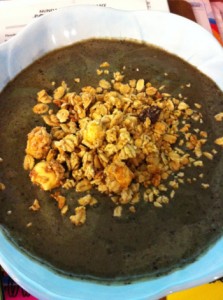 Last week, I made up a mixed berry green smoothie. It was delicious but not as good as today's blueberry green smoothie in a bowl.  I'll share the recipe below.
But on another topic, I really need a new medium size smoothie maker/blender.  I have the Magic Bullet
which is my all time favorite BUT it's small and real hard to put all the green smoothie ingredients in it.  My mom gave me her full size Magic Bullet, the Bullet Express so I'll try that next. My current smoothie maker is on it's last leg. Might go out with the trash tomorrow.
So here are the ingredients for the mixed berry green smoothie from last week.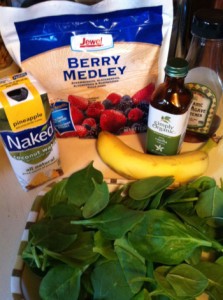 Mixed Berry Green Smoothie
1 c Berry Medley
1 c Naked Mango Coconut Water
2 handfuls spinach
1 banana
Splash of vanilla
A little squirt of agave nectar
I did not add protein powder to this one.
The smoothie was tasty but not pretty ha ha
Enjoy!