Disclosure: This post may contain referral/affiliate links.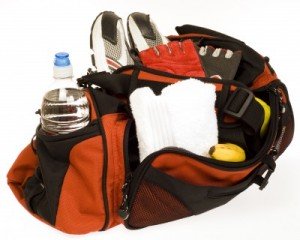 Thanks to Lynn at Traveling Low Carb and Lynn Terry TV, we have a video from one of our hotel fitness center workouts last week.  As you know, she challenged me to do some form of exercise every day in February and we discuss a bit about it in the video.
The Marriott Century Center in Atlanta has a nice fitness center but not all of my workouts were done in there.  Some were done in the stairwell walking flights of stairs and a bit of strength training in the lobby at 1 AM one morning, oh yes we did.
And boy was I a mess.  My legs are ghostly white in the video ICK and look at that messy hair. My oh my!
The one thing I really look forward to when I hit my goal weight or at least get close is shopping for new workout clothes.  I won't be able to wait for sports bras (I need a couple new ones desperately) but I can't wait to get some pretty tops.
I can't believe I have been on video a few times this month.  But I know it's important so I would love to keep it up.  I'm not so much afraid of being on video, it's the techy part that gets me all confused.  Anyway…
When you travel do you workout in the hotel fitness center?