Disclosure: This post may contain referral/affiliate links.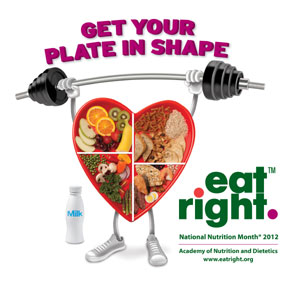 The focus for March is on nutrition and healthy eating and the theme is how to get your plate in shape. So cute!
National Nutrition Month® is a nutrition education and information campaign created annually in March by the Academy of Nutrition and Dietetics. The campaign focuses attention on the importance of making informed food choices and developing sound eating and physical activity habits source
There are a few ways to celebrate National Nutrition month.
You can…
Try a new 'lifestyle' (go vegetarian or vegan or mix the two)
Cut out processed foods
Cut out coffee
Limit sodium
Get rid of sugar
If you are not on my mailing list, be sure to sign up using the form on the top right of my blog because all this month you'll get some great tips on healthy eating starting this Sunday.
What small change will you make this month?