Disclosure: This post may contain referral/affiliate links.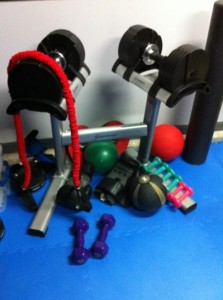 The first week of  the Best Body Bootcamp over at Best Body Fitness has come to a close.  I'm ready for week 2.  Although I had a fall off the Bosu this week and needed to take 2 days off, my trainer, Tina was able to help me move my workouts around.
The only big workout I missed was a spin workout and made up for some of that yesterday.  AND I made up for Thursday's workout today.
I love the fact that I kept going and worked around it.  I am really liking the variety of workouts that Tina has given me to do over the next 8 weeks.  Let's do this!
Best Body Bootcamp posts will be tagged with BBB here on the blog and if you follow on Twitter, look for the hashtag #bestbodybootcamp.  AND don't forget to do your daily workout/healthy eating accountability on my Facebook page.
Monday-
*Spin
Time: 32 min.
Calories burned: 447
Tuesday-
*Strength workout A (BBB)
Time: 33 min.
Calories burned: 292
This strength workout included quite the variety. I can't share all the moves since this is part of a paid program but quite a few of them I have done before at the gym like chest fly's, tricep kickbacks, etc.  And I finally got some use out of my old, barely used step. And boy was that a good workout!
*Elliptical intervals (BBB)
Time: 20 min.
Miles: 1.28
Calories burned: 340
This morning did not start out in a good way. I was up early and felt good but then I went to do the 1st move in my workout plan and things fell apart.  I stepped up on the Bosu with my 7 lb weights and slipped right off falling on the floor and into the metal door piece.  I also chipped part of the wall.  So with a bruised and cut elbow AND a very badly bruised left butt cheek, I repositioned the Bosu in another area and went on with my workout.
Wednesday & Thursday-Day off
Friday-
*Treadmill (speed and hill intervals BBB)
Time: 30 min.
Miles: 1.61
Calories burned: 435
Couldn't run yet due to the fall off the Bosu.  Whoa that bum might take more time to heal.
Saturday-
*Strength workout B (BBB)
Time: 28 min.
Calories burned: 252
*Spin
Time: 25 min.
Calories burned: 367
I was surprised that I was able to spin but my butt didn't hurt.  It was a good workout today!  Some new moves on the stability ball that I have never done before were making me scream for mercy. Thank you Tina!
Sunday-
*Functional workout (BBB)
Time: 11 min.
Calories burned: 117
This was a quick but good workout.  It included 10 fitness/strength moves, some of the moves new to me.  I love that some boxing moves were included into this because you know I love my boxing! This workout would usually be done on Thursday's but I had to change my workouts around this week so I did it today.
*Turbo Jam 20 Minute Workout
Time: 20 min.
Calories burned: 296
Oh Turbo Jam, it's been a while, how I love thee!  I'm going to get back into this because not only is it fun but it's a darn good workout. Got my sweat on that is for sure.
So this is how we do it….you keep on pushing no matter what curve balls are thrown at you!
How did your workouts go this week?