Disclosure: This post may contain referral/affiliate links.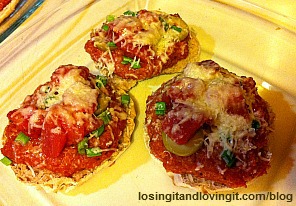 We made one of the best meals we have had in a long time.  It was so tasty we are still talking about it days later.  We made quinoa burgers, pizza style.  So it's not an actual patty but rather the quinoa served up in the size of one without a top to the sandwich.
I am not the best at photos so don't hold that against me. One day I'll figure out how to take good photos but the taste will totally make up for it. I promise!
And if you want to learn more about quinoa benefits, I wrote about that too.
Quinoa Burgers: Pizza Style
English Muffins
1/2 cup Quinoa (we used yellow)
3/4 quarter cup Trader Joe's pizza sauce
2 Tbsp Worcestershire sauce
1/2 can of DelMonte diced tomatoes (Basil, Garlic, & Oregano, no salt added)
1/4 cup Green onions/chives
2 Trader Joe's jumbo green olives, sliced
Fresh parmesan
Directions:
Cook quinoa as directed adding 2 tbsp of worcestershire sauce to the water.
While quinoa is cooking, toast English Muffins
Heat the pizza sauce
After quinoa is cooked add pizza sauce to it
Line tray or pizza stone with tinfoil, spray with olive oil
Lay out muffins and top with quinoa mix, olives, green onion/chives, canned tomatoes and cheese.
Bake at 400 degrees for 6-8 minutes.
Serve up and get ready for a mouth watering tasty meal!