Disclosure: This post may contain referral/affiliate links.
Happy Friday!  It's time for your Fit and Healthy Lifestyle Tip.
Today's Tip:  Spinning/Indoor Cycling is a great cardio workout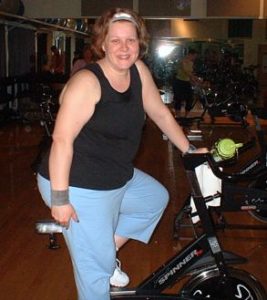 Spinning is an indoor cycling program where you ride on a special stationary bicycle (called spin bikes).  Most gyms/fitness centers offer spin classes to their members. In a spin class, you usually ride to up beat music and have an instructor who talks you through a simulated outdoor ride.
There are 3 hand positions used during spinning and all hand grips should be a light grasp.
Hand Position 1– warming up and cooling down while seated
Hand Position 2– more intense movements like running, jumping and seated climbs, it's a stable position for when you are out of the saddle (off the bike seat)
Hand Position 3– out of saddle climbs
At times you'll do sprints where you pedal quickly and times you'll use adjustable resistance where it makes it much harder to ride the spin bike.  There are a wide variety of riding positions that you'll do during spinning classes such as seated flat, seated climb, standing flat, standing climb and jumps.
We usually attend a spin class 3-4 times a week and love the calorie burn.  During a spinning class, you'll need good stiff soled shoes (spinning shoes are preferred), a towel or two, a water bottle and a heart rate monitor.  A heart rate monitor is not absolutely necessary so if you don't have one, you'll just go by RPE (Rate of Perceived Exertion).
*Hubby just got a pair of new spinning shoes from everyone at his work for his birthday.  Lucky guy!  I'm telling you this because up until this past weekend we were both wearing our New Balance shoes for spinning and they work fine.  I'm still wearing them during spin class but hope to one day get a pair of spinning shoes for myself.  Don't let not having spinning shoes deter you from attending a class.
During every spin class the instructor should help new riders adjust their bikes to get the right fit (you'll want to arrive early if you're new to spinning), check form, heart rate, etc.  If you ever need anything during the spin class be sure to let the instructor know.
You can read more about spinning here:
Spinning/Indoor Cycling on Wikipedia
And a while ago I wrote a blog post on the Benefits of Exercise Bikes so you might gain a better understanding on what exercise bikes can actually do for you.
Spinning class is fun and I recommend if you have the opportunity to try one out.  If you are wondering what a spin bike looks like this spin bike is similar to the ones we use at the gym
but this RealRyder indoor training bike is a dream.
It's the first non-stationary spin/training bike that mimics a true outdoor ride where you tilt, turn and twist.  Sooo cool!  The instability of the bike makes you engage your core and upper body muscles which you usually don't use on a traditional stationary bike.  Just imagine the calories you'll burn on this puppy.  A great cardio workout for sure!  See the bike in action.  This would be awesome to have here at home!
Do you spin?  Any recommendations for women's spinning shoes? I would love to hear about your experience and anything else you can add.