Disclosure: This post may contain referral/affiliate links.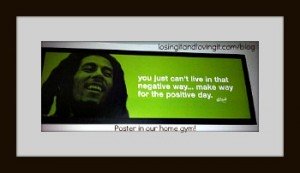 Just in case you can't see it, the quote on this image (a poster that is in our home gym) says "you just can't live in that negative way…make way for the positive day" by Bob Marley.  Whenever I start to feel down, I just look up at that and get re-energized.
This week's workouts were pretty darn good.  I had a lot more energy this week thanks to my green homemade fruit smoothies AND yummy cereal from Attune Foods.
I had the chance to sample some cereal from Attune. They were generous enough to send me 3 boxes and I absolutely love them all.  I was having a major craving for cereal this week along with green smoothies so it was perfect timing.  And I had more energy that I have had in a while.
I don't remember Uncle Sam cereal as a kid BUT Kev did.  Each serving of Uncle Sam Original cereal has 10 grams of fiber, 7 grams of protein and LESS THAN one gram of sugar! You can try it with milk, yogurt, sprinkled on salads or even as a breading for chicken or tofu.
I also tried their Erewhon brand cereals, Crispy Brown Rice (gluten free) and Corn Flakes.  YUM! None of Erewhon's cereals have dairy, soy, peanuts or tree nuts in them.  And they always use natural sweeteners and flavors and pure ingredients, in fact organic whenever possible.
I will definitely buy from Attune Foods in the future. Thanks for letting me share these great products with you.
Now on to this weeks workouts.  I think I did pretty good except I did not feel like working out on Friday but I did it anyway.  Today is Easter and I didn't get to my workout but I am OK with it. I'll make up for it this week!
Monday-
*Turbo Jam Cardio Party Mix 2 (workout DVD)
Time: 45 min.
Calories burned: 615
*Core Circuit (BBB)
Time: 6 min.
Calories burned: 73
Vertical knee raises: 10
Oh my goodness! This was 3 sets of 3 different moves, each move being 30 seconds with 10 seconds rest for me to move to the next. Not sure if I'm doing this correctly but it was an awesome workout none the less.
Tuesday-
*Strength workout A (BBB)
Time: 23 min.
Calories burned: 197
*Spin/Treadmill
Time: 20 min.
Calories burned: 288
Vertical knee raises: 10
Today I started the new set of workouts Tina, my personal trainer sent for the next 4 weeks.  I used a bit heavier weights and did good.  Got on the spin bike for 10 min. it started making weird noises so had to get off and do something different so I hopped on the elliptical and it was making funny noises so then I went over to the treadmill and did a run/walk for 10 min (.59 mi.). Gotta call for them to come check the equipment out. Boo!
Wednesday-
*Walk Away the Pounds 4 miles
Time: 45 min.
Miles: 4
Calories burned: 512
Vertical knee raises: 10
Thursday- Day off
Friday-
*Strength workout B (BBB)
Time: 26 min.
Calories burned: 182
*Circuit Interval (BBB)
Time: 9 min.
Calories burned: 114
This was weights and treadmill.
Vertical knee raises: 10
Saturday-
*Core workout (3 sets) (BBB)
Time: 7 min.
Calories burned: 54
*Treadmill intervals (BBB)
Time: 40 min.
Miles: 2.28
Calories burned: 623
Vertical knee raises: 10
Sunday- Happy Easter (took the day off)
So overall a good week and I am still loving the Best Body Bootcamp and personal training with Tina.  It's really kept me on track with doing strength and weights on a consistent basis.
Definitely going to add on at least 12 more weeks of personal training. Off to do some belated birthday shopping online.  I'm looking for a good plus size sports bra (do you have any recommendations?) and I think I'm going to get some more headbands.
How did your workouts go?