Disclosure: This post may contain referral/affiliate links.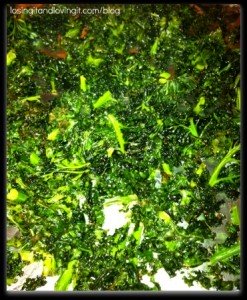 Here is one recipe that I can handle. It's a much healthier alternative to regular chips.
Kale is full of vitamins, has no fat, is an anti-inflammatory, helps lower cholesterol and much more.
I like kale chips plain but I have seen people put ketchup on them.  I am trying to limit the use of condiments now but I might have to try a little ketchup with my kale today.
And you can vary the spices too, from mild to spicy.
Go try this!
How to Make Kale Chips
Ingredients:
Bag of kale (remove stems if desired)
Olive Oil
Spices (We have a spice that is a mix of garlic, pepper & sea salt)
Preheat oven to 350-400
Drizzle kale lightly with olive oil and spices then massage to evenly coat kale.
Place on foil covered cookie sheet and put in oven to crisp.
Depending on the heat you'll leave the kale in for 6-20 minutes.  We were cooking something else in the oven at 350 so the kale was in the oven for about 16 minutes.  Just be sure to keep an eye on the kale so it doesn't burn.
Enjoy!
Do you like kale?