Disclosure: This post may contain referral/affiliate links.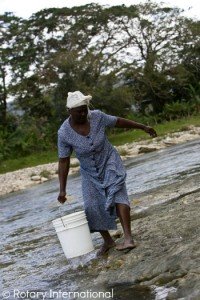 Earth Day is coming up on April 22nd and I would like to do something to give back and raise awareness for a good cause.  And I would love for you to get involved too!
Let's talk about safe drinking water.  I am truly amazed at how many people all across the world lack safe drinking water.
I mean I knew there was a huge problem but it really doesn't hit you until you see pictures and hear stories.
I think we all take for granted the fact that we have such easy access to water.  Read further to find out how we can help bring awareness to this huge problem.
Safe Drinking Water Around the Globe
Did you know illnesses resulting from water contamination are the leading cause of human sickness and death worldwide? In just the past decade, more children have died due to a lack of access to safe drinking water than all people who have died in battle since World War II. That is horribly sad isn't it?
Even when safe drinking water is available, women in Africa and Asia must walk an average of 3.7 miles to and from the nearest improved sanitation facility to collect it, wasting more than 40 million hours each year in Africa alone.  Just think of all the time they have to be away from their families just to provide for them.
As a leader in the effort to improve access to safe drinking water around the globe, Rotary International wants to offer you a unique opportunity to help bring awareness to this cause on Earth Day, April 22.  They are sending me a pedometer to keep track of the distance I walk each day for a week.
This is to help put into perspective the burden of inadequate access to water faced by women in developing countries.  And I also get the chance to award one of YOU a pedometer to keep track of your distance too.
IF you are interested, just comment below and let me know what you would do to get in your mileage every day OR let me know how you could help improve the water quality in your community and around the world.  Don't forget to watch the video I linked to above.
I will draw a number/comment via random.org on the morning of April 16th and email the winner plus update this post.


*Photo source © Rotary International