Disclosure: This post may contain referral/affiliate links.
Happy Menu Plan Monday!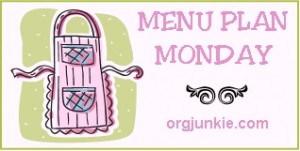 Monday-
Stew (slow cooked on Sunday since it's a late spin class night)
Tuesday-
Tuna & Soup
Wednesday-
Pasta with hot turkey sausage and homemade veggie sauce (pre-cook on Tues. due to late spin class)
Thursday-
Chicken with Near East Tomato Lentil Couscous
Friday-
Salmon with veggie and potato
What is on your menu plan for the week?