Disclosure: This post may contain referral/affiliate links.
The May 2009 Bloggy Love Award is here and goes to Carla at MizFit Online.  Carla is one amazing woman and is always willing to help others.  Carla takes the time to make sure to uplift others and I like her honesty and her passion for fitness.
I had the pleasure of meeting Carla in Chicago last year when she was in town for a Quaker Oats sponsored event.  It was fun.  Here is a picture of the two of us.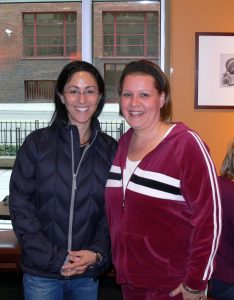 Definitely check out the MizFit Online blog and you'll find so much.  Love Carla's Monday face time videos the most but you'll see posts about food, trends and even giveaways and link love.  If you need a good dose of inspiration, you'll want to make sure to visit Carla's blog and spend some time there on a regular basis.
Check out MizFit's article over on Yahoo Shine.  She's a great writer!  And there are other great articles there as well.
Do you know MizFit? She's a reader here so please show her some love!
Also be sure to share the bloggy love with your favorite blogs too and link back when you do.  I'll have another fabulous blogger to highlight next month, June 2009 so be sure to check back to see who the lucky blogger will be.