Disclosure: This post may contain referral/affiliate links.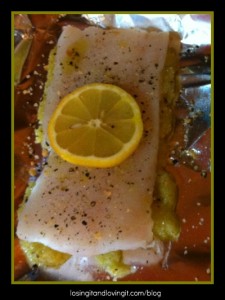 Oh my goodness, I couldn't wait to tell you about one of the dinners I made from last week.  This is exciting because I don't cook…BUT I'm learning.
My friend Jedha has this awesome Paleo meal planning program and although I'm not living the Paleo lifestyle, there are some awesome healthy options that I will use.  Like the Lemon Pepper Fish recipe!
Jedha has kindly said I could share this recipe on the blog. Thank you Jedha!
So please take a moment to check out what she has to offer.  I'll be doing a full review on her Paleo meal plan soon so be on the lookout for that.

Lemon Pepper Fish
Copyright © 2012
Jedha, Paleo Weight Loss Coach
Ingredients:
Serves 2
2 pieces white fish
1 teaspoon cracked pepper
1/2 lemon – squeezed
6-8 thin lemon slices
1 x 5 cm piece lemon grass
Butter or Olive oil
Foil
Cooking Method
Break off 2 large pieces of foil big enough to fully wrap fish
Slice lemon grass lengthwise and place on top of foil, then top with fish pieces
Sprinkle the cracked pepper on fish, pour over the lemon juice, and top with the lemon slices, distributing the ingredients evenly between to 2 pieces of fish
Put on some big dollops of butter or drizzle with olive oil
Wrap the fish up in parcels
Place in a steamer and cook for 20 minutes
Serve with salad or vegetables
Note: To make a super fast meal, chop up some vegetables and after 10 minutes throw them into the top of the steamer with the fish. Then you can sit down to some lemon fish with steamed vegetables. A super fast and easy meal.
Tip: You can leave the fish wrapped in the foil and eat it cold or heat it up for lunch.
We actually used Lemongrass gel from a tube that we can get at our local grocery store and instead of steaming we baked the fish.  This is hands down THE BEST fish I have ever had. I couldn't stop talking about it and we'll be having it again this week if we have the right kind of fish.  And yes, I had it as a leftover the next day and it was delicious cold.
The 2nd part of this meal were the Polenta Stuffed Mini Peppers from the Cooking with Trader Joe's Skinny Dish cookbook
(page 78).  Jennifer, the author was kind enough to send over the link to the recipe online.  You have to check out the book, it has some awesome recipes in it.
We changed around the recipe to use curry instead but we will be making the polenta mixture again using her recipe.  Might try adding the mixture to mushrooms next time!
And there are more awesome recipes on her Cooking with Trader Joe's website.
So this entire meal was a total win!  I'm impressed that I was able to cook it.  I really enjoyed the Polenta, have you ever cooked with it?