Disclosure: This post may contain referral/affiliate links.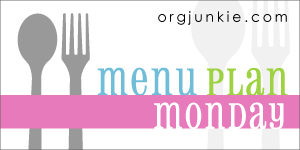 Last week's meal plan didn't go over as well as I thought but at least I'm trying to plan ahead.  We had maybe 2 meals from the list.
Sometimes you just don't feel like having what was planned for that day. Do you ever have that problem?
Going to keep on trying though so wish me luck this week.
Here is the tentative meal plan for this week:
Monday- Fish (Cod Thai Style) and veggies
Tuesday- Stuffed Peppers (with beans picked from friends in Honduras) and rice
Wednesday- Breakfast for Dinner

Thursday- Fish
Friday- Black Bean/Quinoa Burgers
Nothing too exciting. Another busy week ahead so quick and simple it is and hopefully I can at least help cook some of it.
What is your meal plan for the week?