Disclosure: This post may contain referral/affiliate links.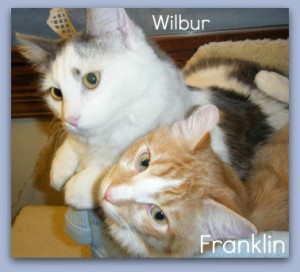 The last few months have just been a bit challenging on a personal level. This past week was one of the hardest. Our kitty, Franklin shattered his leg 10 weeks ago (and has been in a dog crate ever since) and had his 2nd surgery on Tuesday to get the pin out. It was to be his final surgery and he would be good to go.  We were so excited that day. However two days later he cracked that same leg.
We had a procedure done to put a splint on and my poor poor kitty went crazy. He was attacking the splint, wouldn't go potty and it was just one horrible experience.  Everyone kept telling us he would get used to it but we went with our gut and had it removed.  That was a tough day, not knowing if we were making the right decision but we made it and planned to have another $1000 plus surgery to get plates put in his leg (scheduled for tomorrow).
I got home and knew we had made the right decision. He's been resting peacefully since Friday afternoon although he can't walk on his back left leg.  It's really sad what he has gone through but when you adopt a pet or have one in general,  you just take on the responsibility.  There was no other option!
So needless to say, I only worked out ONCE this week and you know what?  I am totally OK with it because I was and still am exhausted.  I had a mini break down, OK I was a hot mess on Friday at the vet and I just need to focus and deal with the kitty situation.
I'm going to try to get in some workouts this week but I need my sleep too.  One might think these are all excuses and well, yep they might be but I have been trying to eat well to compensate AND I have been successful so far with my No Naughty Desserts May challenge.  YEA, so proud of myself.  I did almost give in due to all the stress but I got past that.
Thinking I would like to make some homemade granola bars tomorrow while Franklin is in surgery.  I need to keep my mind off of it all so we'll see.
I'll end the post here and wish you all a great week.  I'll check in as I can with updates.  Thanks for all the good thoughts and prayers for my sweet kitty boy.  Our other cat Wilbur is being a trooper and loves his brother a lot.  They sure miss their cuddle time as do we.
Oh and my workout for the week is below whoo hoo
Monday-
*Spinning
Time: 42 min.
Calories burned: 512
How did your week go?