Disclosure: This post may contain referral/affiliate links.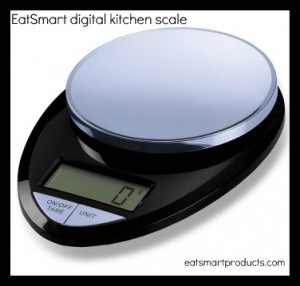 Have you heard of the Eat Smart Precision Pro Digital Kitchen Scale
?  I was sent one to review and I really like it.
I have had a scale in the past but this one is much easier.  Two buttons and small enough that it doesn't take up counter space. We keep it out of the way by putting it on top of our microwave.
Our old scale had to be plugged in and I prefer that this one is battery operated.  Thank goodness the old one bit the dust.
You can measure anything on a plate or in a bowl because the tare option eliminates the weight of the plate/bowl.  But you can also measure directly on the scale.  Having a scale keeps you from having to guess and worry if you are eating more than one portion size.  Because we all know that not all products are labeled correctly *wink*
It's very important that I start focusing on my portion sizes and taking control of my nutrition. Now if you want to go for the big dog in EatSmart scales, check out the Nutrition Pro scale.  It's a food and nutrient calculator.  Cool!
From the Eat Smart website:
"The EatSmart Precision Pro Digital Kitchen Scale is an economically priced multifunction home scale, perfect for everyday tasks from weighing food or ingredients to calculating postage. Along with our Precision Pro, you will also receive a FREE Calorie Factors Book making it easy to achieve goals such as portion control and calorie counting."
Features
Compact Design and Easy Two-Button Operation
Tare Feature; Subtract the weight of any plate or container
4 Measurement Modes: Grams / Ounces / Kilograms / Pounds
Max Weight: 11 pounds / 5 kilograms
Graduation: .05 oz / 1 gram
3 minute Auto-Turnoff
Includes 2 AAA batteries
You can measure practically anything on this scale.  I have measured nuts, dry pasta and cereal. The list of options is endless.
I highly recommend the Eat Smart Precision Pro Digital Kitchen Scale
!  And if you participate in the upcoming Better Healthy Living Challenge here on the blog in June, you'll have a chance to win one, courtesy of our friends at EatSmart Products.
Be sure to follow EatSmart online to keep up on new products, specials and great ideas:
And don't forget to read the EatSmart blog too!
Do you have a kitchen scale?  What do you measure on it?