Disclosure: This post may contain referral/affiliate links.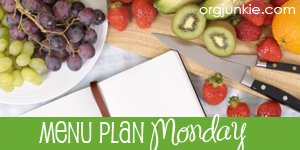 Time for this week's menu plan.  We'll keep trying to follow a menu but it's not been working out so great for us. It's mostly me with the issue because I never know what I 'm going to feel like having for dinner.  Trying not to be too specific this week so it gives me a little room to play with.
So here we go!  We'll see how we do this week.
Monday- Tuna and Soup
Tuesday- Dinner out
Wednesday- Breakfast for dinner
Thursday- Fish/veggie (hopefully we'll pick up some salmon so we can have some grilled salmon on planks)
Friday- Buffalo tempeh for me, meat for Kev
Weekends are always up in the air!
See how exciting? LOL
Tasty Grilled Fish
This past week I had the opportunity to review some of the new Van de Kamp's Parchment Bake grilled fillets.  We tried the Classic Grilled Tilapia and the Roasted Garlic Tilapia.  Both were good but we enjoyed the Classic Grilled best.  I was sent free coupons in exchange for review and I still have more to try. Looking forward to testing them out.
These grilled tilapia's are only 80 calories for 1 fillet (there are 2 in a box) and 13-15 g of protein depending on the product.  I'm sold…especially since they are good when you need a quick meal.
"Using the same parchment paper technique professional chefs use to bake fish perfectly,we created Mrs. Paul's and Van de Kamp's ParchmentBake, allowing consumers to easily serve restaurant quality seafood at home, perfect every time."
I was under the impression that they would be microwavable but on the box it says "microwave or toaster oven preparation is not recommended".  So the oven it is.
*You can find coupons at www.mrspauls.com and www.vandekamps.com
What is on your meal plan for the week?