Disclosure: This post may contain referral/affiliate links.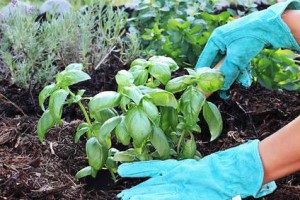 Guest Post by Trish Lindemood of HomeFarmandGarden.com
Fresh herbs are a great way to add a lot of flavor to dishes without adding a bunch of unnecessary calories. Therefore, I always have a variety of different fresh herbs on hand to spice up my favorite recipes throughout the year.
Fortunately, fresh herbs are really easy to grow either from seed or from starts found in your favorite garden center or grocery store.
To create your own mini-kitchen herb garden, start by selecting 3 or 4 different herb varieties you want to grow. Then, arrange your plants or seedlings into a decorative planter and surround with garden soil, pressing the soil firmly into place. Then, set outside in a nice, sunny spot and water thoroughly.
Most herbs are annuals in cooler climates, so be sure to bring your container indoors once cooler weather hits so you can enjoy fresh herb harvests all year round. If space is tight, transplant your herbs into smaller, decorative containers that will fit on your kitchen counter or windowsill.
Here are a few of my favorite fresh herbs:
1. Rosemary: This woody herb is great in savory dishes and pairs great with both chicken and beef. One of my all-time favorite marinades pairs Worcestershire sauce, freshly minced garlic, and crushed rosemary. Use as a marinade for juicy strip steaks and enjoy!

2. Basil: This is one of the most versatile herbs out there. Basil is fantastic when paired with just about any tomato-based pasta dish or homemade pizza. Or, pair it with tomatoes straight from the garden, sliced fresh buffalo mozzarella and fresh-cracked salt and pepper. Drizzle with some balsamic vinegar and good extra virgin olive oil and serve.
Note: This dish is especially beautiful when you alternately stack sliced yellow and red tomatoes with the fresh mozzarella. Sprinkling thin slices of fresh green basil adds even more visual appeal to your presentation.

3. Cilantro: People either seem to love or hate cilantro. I fall into the former category – I just love the way it wakes up fresh salsa or pico de gallo. Pair these Mexican favorites with grilled or broiled white fish for a delicious and healthy meal. For an incredible flavor combination on a warm summer night, serve these recipes with frozen watermelon Margaritas.
4. Thyme: To be honest, my love affair with thyme is mostly based to its stunning good looks, awesome aroma and easy-going nature. What can I say? I'm kinda shallow that way… 🙂
Super easy to start from seed, thyme is a perennial in my Zone 5 garden here in northern Ohio. Its creeping, trailing habit makes it a beautiful (and fragrant!) addition along walkways, as well as in rock gardens and patio containers.
I especially love lemon thyme for its fresh, citrusy scent. Regardless of which variety finds it way into your garden, thyme is a classic choice to pair with chicken or roasted vegetables.
So, there you have it, 4 of my absolute favorite fresh herbs. Of course, there are many other fresh herbs out there for you to try and enjoy. However, these tried-and-true staples are always great choices to have on hand!
Til Next Time,
PS Want more delicious, nutritious and healthy farm-fresh recipes, plus step-by-step tutorials on creating beautiful projects for your Home, Farm or Garden? Be sure to visit me at HomeFarmandGarden.com and sign up for weekly updates.