Disclosure: This post may contain referral/affiliate links.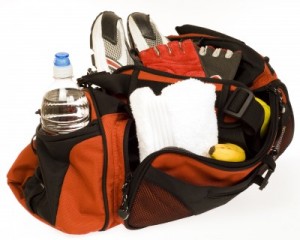 Here are my workouts for the week.  Not totally as I had planned but I did OK.  This week will be a bit stressful (read below) but I'm going to do my best to get in workouts here and there.  Will probably rely on quick bursts throughout the week.
This weekend I bought some new Brooks cross trainers/running shoes and I'll be testing those out to see how they do. Been having some knee issues with my other shoes when doing kickboxing, Walk Away the Pounds and other workouts so  hopefully the new ones will be better.  You can read more about them in tomorrow's blog post.
Monday-
*Elliptical warm up
Time: 10 min.
Miles: .62
Calories burned: 133
*Strength/Weights Workout A
Time: 39 min.
Calories burned: 409
Abs: 50 crunches on stability ball & 10 vertical knee raises
Tuesday-
*Spinning (Interval A workout)
Time: 38 min.
Calories burned: 508
Total sweat fest and I loved it! Great workout.
Abs: 50 crunches on stability ball & 10 vertical knee raises
I was able to do all 10 vertical knee raises in a row.  It was  major accomplishment.
Wednesday-
*Turbo Jam Fat Blaster (DVD workout)
Time: 30 min.
Calories burned: 361
My HR monitor kept acting up, I think it might be on its last leg or my battery is going.  Need to check this out soon.
Abs: 50 crunches on stability ball & 10 vertical knee raises
Thursday- Day off
Friday-
*5k With a Twist Walk Away the Pounds (DVD)
Time: 45 min.
Miles: 3.1
Calories burned: 518
Abs: 50 crunches on stability ball & 10 vertical knee raises
Saturday- Day off
Sunday- Sick day
Well, good intentions to spin today but I had a migraine and was in bed most of the day.
Overall, I think I had a pretty good week!  Tina, my online personal trainer sent me a new set of workouts for my next 4 weeks.  I haven't had a chance to look at them or print them out but that is the plan tomorrow.  Hope you all had a great week!
What was your favorite workout this week?
I personally liked the Turbo Jam Fat Blaster workout because it was short and sweet.  With our kitty situation this is the best thing for me right now.
Kitty update:
And speaking of kitty, some of you are asking for updates so I'll make it quick. We go to the vet this Tues. for his check up x-ray to see if his broken leg has healed after the plate surgery.  We hope for a good answer.  It's been 8 weeks since his 3rd surgery (and he only just turned 1 ) so we are hopeful BUT are not going to jump the gun this time. If the x-ray shows he has healed, he will have more freedom out of the dog crate in my home office only. We have removed all tall cat trees and replaced with smaller ones plus did some fixes around the home office  We'll do that for a couple weeks to see how things go.  He's extremely stir crazy (and I would be too having to be in a dog crate since his 1st surgery back in March) so every time we let him out of the crate he gets a bit too excited for our taste.  Must watch him very carefully.  We have now invested over $6,000 in medical bills in this adorable adopted kitty so you can see why we are just a bit nervous lol  Good thoughts are always welcome! It's been a rough 4 months.