Disclosure: This post may contain referral/affiliate links.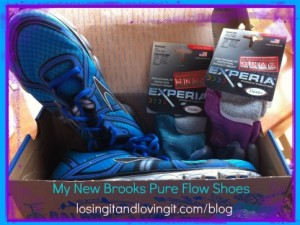 We went to The Running Depot this weekend and I treated Kev and myself to new cross trainers/running shoes. I was sold some Saucony running shoes as cross trainers (from a big name store) and didn't realize anything was wrong until I started having major knee pain after every kickboxing, Walk Away the Pounds and Zumba workout.
Don't get me wrong, the shoes looked awesome and are very durable BUT apparently they weren't for me.
My ankle would roll and since I also over pronate those shoes were not the best for me. I liked the fact they supported my ankle up high but this time I went with some that didn't have as high of a back/side as the Saucony did but still had a wide bottom to them.
I got the Brooks Pure Flow and am hoping for the best. They are not fully cross trainers but felt like they would work. I sure hope so!  I am going to try them out this week and next to see if I have any change and hopefully won't have to return/exchange them.
Sure hope this time I got a good pair!  It's not my plan to use these for running at all since I wear my Vibrams for that type of workout.  I don't run on a regular basis and when I do, it's only a 1-2 minute run/walk situation.
I would highly recommend that if you are looking for a new pair of running/cross trainers, etc. that you look for an actual specialty running store in your local area so that they can watch you walk, analyze your wear pattern, size your shoe right, etc.  They are always so helpful!
If I were to tell you that I was looking for a cross trainer shoe for workouts such as the ones I mentioned above, what shoe/brand would you recommend to me?
You never know, I might need to try a few before I find THE one.