Disclosure: This post may contain referral/affiliate links.
It's time for Menu Plan Monday!  Hope your holiday weekend was fabulous.  We have company and will go play miniature golf today.  Can't wait!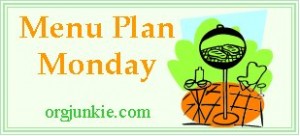 Monday-
Happy Memorial Day-Ribs, a very special treat, veggie and grilled pineapple
Tuesday-
Tabouli stuffed peppers
Wednesday-
Pasta w/turkey sausage and veggie sauce
Thursday-
Balsamic/Basil or Jerk chicken and shrimp spinach wraps
Friday-
Steak, potato and veggie
I'm also going to try my hand at making some green smoothies this week.  I sure hope I like them and I'll be sure to tell you all about them.