Disclosure: This post may contain referral/affiliate links.
My next sponsor thank you's go to Hilary of The New Green Smoothie Diet and Diana of Craving Secrets .  These ladies were kind enough to donate a copy of their ebooks to my June Better Healthy Living challenge.  I truly appreciate it.
These books are awesome! I have had the Craving Secrets book for years but The New Green Smoothie Diet book was new to me.
Here's a bit about each book…enjoy!
The New Green Smoothie Diet
A shout out goes to Hilary who donated a digital copy of The New Green Smoothie Diet.  This book includes info on detoxifying the body, weight loss, making skin and hair beautiful, recipes and more.  If you don't like to eat veggies in their natural form, try making some green smoothies.  You might change your tune!
Craving Secrets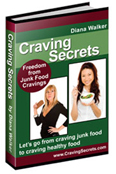 Now, it's high time, I dig back into the Craving Secrets book.  In Craving Secrets you'll find out how to conquer a variety of cravings.  Everything from soda to sweets to fast food and more. Diana will take you step by step on the path to beating your junk food cravings and will teach you how to manage your worst cravings.
Truly a ton of great info that will guide you in the right direction when it comes to conquering your specific cravings.  You also get quite a few bonuses like a Q & A call with Diana and a few reports.
If you decide to check them out, let me know what you think!