Disclosure: This post may contain referral/affiliate links.
Just completed week 1 of Best Body Bootcamp. It's back!  For 8 weeks we have a goal to workout at least 5 times a week and then set two personal goals each week.  My two personal goals for last week were to drink at least 10 cups of water and be in bed no later than 11 PM.
As a personal training client of Tina's, I have a personalized plan so I'm not doing the same workouts that the others are doing but from what I hear they are loving it.  And they are all such an inspiration!
This weeks workouts were really good.  I'm getting back into the groove and it feels good.
Here they are…
Monday-
*Strength/Weights/Abs Workout A
Time: 26 min.
Calories burned: 308
Today my workout plan had me doing 4 sets but I could only get through 3 of them. Still a great workout and I was sweating my butt off.
Tuesday- Day off
Wednesday-
*Spinning (Interval B workout)
Time: 35 min.
Calories burned: 474
Thursday-
*Strength/Weights (Workout B)
Time: 24 min.
Calories burned: 199
I did all 4 sets but I had to use smaller size weights for the last set.  My arms were burning but my shoulder started to hurt so I knew better than to push through that.  Proud of myself for finishing and not quitting on set 3.
Friday-
*Treadmill (Interval A workout)
Time: 20 min.
Miles: 1.09
Calories burned: 265
Saturday-
*Functional Training workout
Time: 20 min.
Calories burned: 238
*Elliptical
Time: 10 min.
Calories burned: 164
Sunday- Day off
Today I didn't do a formal workout but boy did I burn some calories cleaning the house!
Loving me some Best Body Bootcamp!  Are you participating too?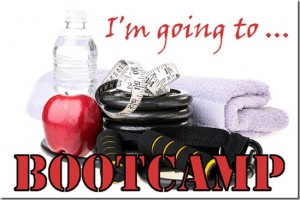 This coming week is going to be up in the air as I'll be traveling but it is my goal to make it 5 days.  I'll do M-W before I leave and then get some quick workouts in at the hotel.
I'm thinking of printing out some HIIT workouts to do (from my fitness inspiration Pinterest page) and hopping in the pool too. We'll see how it all plays out.
Last time, I made it a point to walk the stairs but my knees paid for it dearly so I don't foresee that I'll be doing that again.  I might even just do workouts in the room instead of the hotel gym, who knows.
My favorite workout from last week was the spinning interval workout.
What was your favorite workout?