Disclosure: This post may contain referral/affiliate links.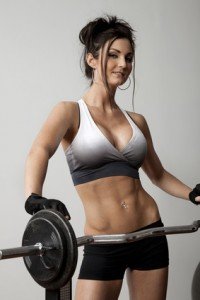 Please help me welcome my friend, Satu as a guest blogger today.  Satu is going to share how important strength training for women is and I can definitely attest to it.  If you want to look and feel different, definitely start strength training.
Welcome Satu!
Non-negotiable: Strength Training for Women Over 40
If you're a 40+ woman and do 4-5 weekly cardio workouts, you may think you already have it figured out fitness-wise. You certainly have no reason to worry about strength training.
For women over forty that's a dangerous assumption to make. Let me explain why.
Strength Training for Women – 3 Reasons Why It's Non-negotiable


1) Strength training prevents weight gain.
According to one study, women who don't strength train lose 7 pounds of their muscle mass every ten years. What this means, is that your daily caloric expenditure decreases by approximately 350 calories every ten years. If you're forty now and can maintain a steady weight by eating 2000 calories per day, at age 50 you can only eat 1650 calories/day to maintain your current weight.
Sounds depressing?
Well, this development can be reversed simply by adding some strength training to your exercise regime – adding more cardio won't simly do the trick. The more lean muscle mass you have, the more you burn calories day in-day out.
P.S. And it's muscle mass that gives you that toned and curvy body, not cardio.
2) Muscular strength is an antidote to pain.
The modern sedentary lifestyle is accompanied by all kinds of pains and aches. If you have an office job, I'll eat my hat if you don't also suffer from recurring tension headaches and pains in your neck, upper back and lower back.
Musculoskeletal pains and aches are the consequence of doing repetitive movements for long periods of time. That leads to muscular imbalances, which in turn lead to all kinds of pains and aches. A well thought out strength training routine strengthens the weak muscles and stretches muscles that are short and tight muscles.
3) Strength training allows you to age gracefully.
You need muscular strength to age gracefully. There's nothing funny about falls and fractured bones, and having to walk with a cane or walker is not something that most people look forward to. Strenghtening the major muscle groups in your core and legs decreases the likelihood for balance problems later in life. Strength training is also important for preventing the progression of osteoporosis, especially after menopause.
So, if you'd rather not suffer from musculoskeltal pains and would rather win the battle aginst the middle-aged spread, you'd better add some strength training to your workouts. As a bonus, you are much more likelier to enjoy your retirement years in good health.
The good news about strength training is that you won't need to go to the gym and lift weights for 4 times a week for the rest of your life – in addition to cardio. Two sessions of resistance training per week is enough and you don't even need to got to the gym if you don't want.
What's even better, it's quite possible to do an effective strength training workout at home with the help of simple equipment like dumbbells, resistance bands, a stability ball and your bodyweight. If you are interested in a strength training workout that is specifically designed for women, check my Full-Body-Licious review.
Cardiovascular fitness is important, but I think strength training is equally important.
About the Author: Satu Hattula writes a healthy lifestyle and fitness blog for sedentary office workers at https://BodyCapable.Com. Join her Facebook page for blog updates and a regular dose of fitness inspiration.