Disclosure: This post may contain referral/affiliate links.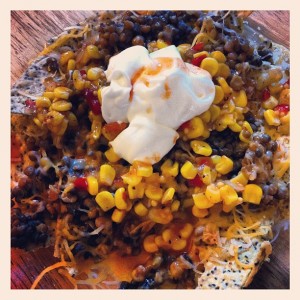 Just made an awesome and quick lunch today. Everything I kept pulling from the cupboard, I kept putting back because I just didn't feel like making it.
So I saw lentils in the fridge and was immediately craving them. Then the meal just came together and I decided to whip up a healthy recipe for homemade nachos.
They were delicious.  Probably a bit more sodium than I would have liked but still yummy. Here's the recipe:
Lentil Corn Salsa Homemade Nachos
1 serving chia seed & chive tortilla chips
1 serving lentils
1 serving corn salsa
1 serving shredded Mexican cheese
1 dollop Greek yogurt
Generous serving of my all time favorite hot sauce, Slap Ya Mama
A quick and tasty lunch that I will make again. Enjoy!
Do you have a healthy recipe for homemade nachos?