Disclosure: This post may contain referral/affiliate links.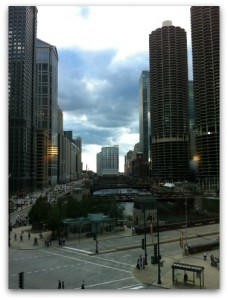 This week was actually really good considering that I missed M-T for being sick.  The rest of the week went well and it was especially fun this weekend.  We were given the opportunity to stay in a fitness suite at Hotel 71 in Chicago and it was awesome. I'll be writing more about it this week but I will say it was one of the best times together we have had in a LONG time.
Chicago is a great city to get active.  We live out in the burbs so we don't get there often but I sure hope to be able to get back soon.  It's really a beautiful city.  The Chicago half marathon was this weekend which we missed checking out but hope all those that ran had a great time.
We'll be doing more traveling this month and next so I'll be sharing some tips on how to stay active while on the road for personal or business travel.  Here are my workouts for the week:
Monday-Tuesday- sick days

Wednesday-
*Light upper body work
Thursday-
*Strength/weights workout A (new personal training plan)
Time: 28 min.
Calories burned: 312
There was one move, the crab walk that I could not do.  Will need to work on that for sure!  My wrists feel like they are going to break so needless to say I need to lose a lot of weight.
Friday-
*Spinning
Time: 29 min.
Calories burned: 355
Saturday-
*Walking in Chicago
Miles: 2
Sunday-
*Elliptical
Time: 17 min.
Miles: 1.0
Calories burned: 276
*Treadmill
Time: 22 min.
Miles: 1.14
Calories burned: 255
*Walking in Chicago
Miles: 3
My favorite workouts this week were all the workouts in Chicago. That was a total blast!
What was your favorite workout?


P.S. Don't forget to check out Best Body Bootcamp.  We are in round 2 now but round 3 starts Oct. 22nd.  Registration opens Sept. 17th. Don't miss it!