Disclosure: This post may contain referral/affiliate links.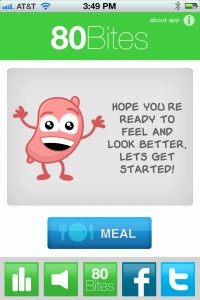 Recently, I learned of a new digital approach to eating, 80Bites. The idea which measures food intake through the 80Bites APP is revolutionary. The idea is basic and brilliant: limit your daily intake to 80 bites a day (of any food!) While 80 bites may not seem like enough, research has proven that 80 bites a day is all 90% of peoples bodies really need. Exceptions are people such as football players, marathon runners, and others who burn thousands of calories daily.
The 80Bites APP makes it easy to record your food intake, and addresses the question asked by everyone from Oprah to Rex Ryan: "why am I always hungry?" By following the plan, users will change their habits reducing bites, eating less and turning stomachs back to their correct size. The American stomach is stretched out of proportion due to the "super-size" food culture that it takes more food to feel satisfied which leads to overeating. 80Bites seeks to remedy this damaging cultural phenomenon.
The APP is humorous and entertaining with Sam Stomach, an animated stomach, as the user's guide. Sam monitors with the daily count, letting users know when they are eating too fast, too much or just the right amount. The APP follow up program is split into 4 sections (Quantity, Frequency, Quality and Balance) that will teach you step by step on the 80 Bites method. It's also inexpensive. 99 cent for the app and 49.95 for the plan.
80Bites has some weight behind it. The creators Joan Briebart and Meredith Luce are health and nutrition professionals. Luce is an MS, RD, LD/N. Joan is credited with popularizing the Pilates method. These two ladies make it clear that 80Bites is not a fad diet. It's a new approach to weight control.
With the holidays around the corner this might be the way to eat and enjoy holiday food without feel guilty or gaining weight. Overall 80Bites is an excellent APP and approach to eating. It makes you question programs such as Weight Watchers. Most importantly, it's easy to use and let's people return to what we all love – enjoying food and life.
This post was sponsored by 80 Bites