Disclosure: This post may contain referral/affiliate links.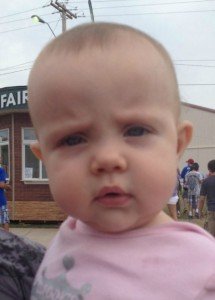 Our granddaughter Isabella
Last week was awesome but not when it comes to workouts because by golly there weren't any actual workouts.  Unless of course you count hours and hours walking at the fair with our granddaughter, Isabella.  Isn't she precious?  We spent every waking hour we had with this precious angel.
Oh and carrying and lifting and playing, that is all a workout in itself.  Kudos to the mamas out there.  I can only imagine the amount of calories you burn every day!
It was so nice to be able to spend a week with our family in Oklahoma.  I did have good intentions before I left to do actual workouts, use bands, weights, etc. but we were having way too much fun with Bella.  We took her to the zoo where once again we walked and walked. I mean miles and miles over the course of a week so I'm counting that as my workouts last week.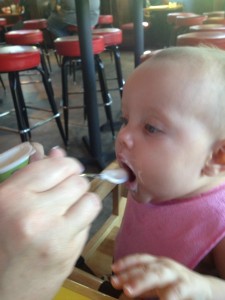 Then we spent a day walking around Bricktown in OKC. It was a fabulous day!
And I made wise choices when we went to Peachwave for frozen yogurt.  I would say my week was pretty healthy when it came to food choices.
We also had fun at her 1st visit to the pumpkin patch.  Oh and I forgot to mention we walked around the outlet mall a bit too.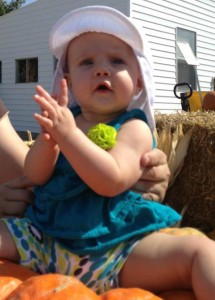 Last week was amazing. We can't get back there for a visit fast enough. Already have plans to head back to celebrate her FIRST birthday. Awww.
How did your workouts go last week?