Disclosure: This post may contain referral/affiliate links.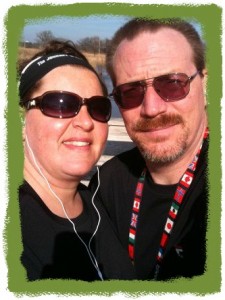 Are you on a fitness journey?  On a mission to  stay fit, eat healthy and lose weight?
The Under Armour What's Beautiful program is encouraging women to share their fitness journey's.  You'll get motivation and support as you complete challenges.
There are guest trainers with tips and you can participate in giveaways for a chance to win prizes.  Under Armour is there to help you every step of the way.
You might have seen the new Under Armour commercial and if you haven't, you need to. It's totally inspiring!
The contest is open to women, residents of the U.S. and Canada over the age of 13.  There will be 20 finalists and the final 10 with the most epic journey's will win a trip to FL. to the Under Armour Women's Camp Sweat.  Here you get the chance to train with the best.
The community is growing quick!  Be sure to take a minute to watch the featured profile videos too. You can get involved now in the What's Beautiful Under Armour campaign. Enjoy!
My personal fitness journey has been quite the ride.  It hasn't always been easy for me to keep consistent but I have never given up.
I have trained at a Muay Thai gym in Atlanta, GA, walked a half marathon in Jamaica and have recently walked the Out of the Darkness 5k walk.  In between, I have had personal trainers both online and off, participated in an online bootcamp and even have a fitness challenge here on my blog every year.
Plus we remodeled our garage into a home gym!  That was one of the best investments we have made. I used to have to drive over 30 min. each way to get to a gym so it's much better now.  We do miss our spin classes however we did add 2 spin bikes to our home gym (along with a treadmill & elliptical and other fun things) so we hold our own spin classes.
I truly had to step out of my comfort zone when it came to training at the Muay Thai gym but I love boxing so much that I knew I needed to do it.  And when it came to the half marathon, my initial goal was to run it but some breathing issues put a halt on that so I made it my mission to walk the entire thing.  It was the hardest thing I have ever done but with the support of the most awesome hubby in the world, we finished it together.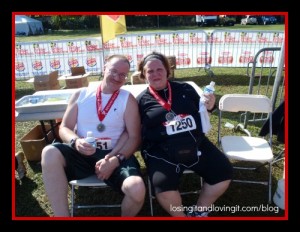 He could have completed it in a much shorter time but he stuck with me the entire race and cheered me on.  It was very emotional but I did it and it was an amazing feeling.
I have a long way to go but I still love to workout. I also want to get more active outdoors when I can so bikes are on our wish list.
I have a few big goals I would like to accomplish:
Lose 100+ pounds
Go roller skating and rollerblading
Participate in more races (walking)
What are some of your big fitness goals?


 FitFluential LLC compensated me for this Campaign. All opinions are my own.