Disclosure: This post may contain referral/affiliate links.
Here are some mistakes most people make when first starting out with a new fitness routine.  I chose these because when I first started, I made most of them.  Do these sound familiar to you?
Top 5 Fitness Mistakes Most Beginners Make
1) Not fueling up well for a workout
If you don't fuel up well before a workout, you are going to crash quickly.  You need something to give you enough energy to get through your workout (and I'm not talking about coffee).
If it's a major workout like spinning or kickboxing, you will be sorry if you don't have something to help push you through the workout.  And you'll feel good after the workout too.
You obviously don't want to have a full breakfast, or too much that will make you nauseous but something to tide you over until after your workout.  Here are some suggestions for the best pre-workout snacks.
2) Only doing cardio
It's very important that you incorporate strength/weights into your workout routines.  As much as I love cardio and could do it all the time, I know that I need to mix it up and do a variety.  I love weight/strength workouts and Pilates.  I have wanted to try yoga for a long time and feel that it would benefit me in a lot of ways.
I need to make myself slow down and that will be a challenge.  Hopefully with the chance to try out My Yoga Online, I'll find my way as a yoga beginner.  Be sure to see the deal at the end of this post for YOU, my lovely friends!
3) Incorrect form
There are a lot of places online where you can find the correct form to use on a variety of fitness machines, Pilates moves, boxing and much more.  I would personally suggest you start with You Tube however you're not always guaranteed that you'll find the right form.  I like BodyBuilding.com for exercise guides and you could always ask for help from a personal trainer too.
I think it's important to get help before starting a routine.  I remember when I was first looking for a personal trainer at LA Fitness (we are no longer members) they paired me up with a guy who had no clue. He paid more attention to his fitness buddies and watching other people workout than he did helping me.  He had me do one move that I knew in my gut felt wrong but I went along with it anyway.  The next day I paid for it and knew he was not going to be my trainer.  I did finally find one that was amazing.
Just goes to show you really need to be cautious when it comes to using proper form in your workouts. Be sure to ask if you are truly unsure!
4) Not cooling down & stretching after a workout
It's very important that you take the time to cool down after a workout.  Your heart rate is high and stopping abruptly can be dangerous to your health.
After an intense workout, take at least 5 min. to do a cool down before stretching.  Afterwards you'll want to stretch either by using your own body weight and foam rollers or there is a stretching 'machine' in most gyms that are usually in the weights/mat area (similar to this LifeSpan Stretch Partner).  Take time to cool down and stretch, you'll be glad you did.
5) Not giving your all
Some people will not agree with me but I personally don't feel that you can get a rocking workout if you are spending your time catching up on Facebook, Twitter and reading on your phone or a magazine.  For one it's dangerous when you don't fully focus on your workout. I do however think listening to music is fine because it really doesn't take your eyes off what you are doing.
I also think you will get a much better workout when you give it your all.  I'm not sure how one can read a magazine or see their phone when they are running, spinning or using the elliptical but more power to them if they can stay safe AND get a great workout. But I still don't recommend it!
So there you have it, what I feel are the top 5 fitness mistakes most beginners make.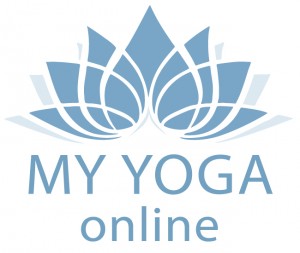 P.S. Now to that deal I mentioned above. My Yoga Online is giving all of you TWO weeks FREE to check out their awesome site.  My Yoga Online streams yoga classes daily online!  You go at your own pace and they have something for all levels.
There is a lot to their premium membership including your own personal journal/diary, the ability to connect with others and have access to professional yoga and wellness instructors.  There are also sessions on weight management, overall well-being and more.
And they also have a whole section on healthy living that includes topics on nutrition, beauty, green living, health & wellness AND healthy recipes!  Must check out their Veggie Coconut Curry.  Sounds and looks delicious.