Disclosure: This post may contain referral/affiliate links.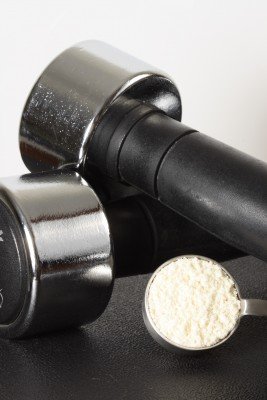 SpeedLoss is namely known for their cleansing and special weight loss program but since I don't use those type of products, I asked if I could review their protein powders instead because I have yet to find one that I LOVE.  So I'm on a mission!  And SpeedLoss has a great variety like Atomic Chocolate, Butterfinger Fantasy, Vanilla Vroom, Cool Mint WHOA, Peanut Butter BLAST and Strawberry.
Their whey protein powders have a great amount of protein, help burn fat, control your appetite and build toned muscles.  It's low carb AND has added fat burning L-Carnitine.  I received sample packs so I haven't personally seen their tubs of protein powder but they are 12 servings for $37.90.
The Power Protein meal replacement powders help you burn more fat while still building lean muscle and speeding up sluggish energy levels.  Goodness knows I needed that lately!
And all you need to do is add flavored milk (or use unsweetened almond milk like I do) to 1 scoop of protein powder and a cup of ice.  Then blend it up. It really is smooth and frothy as they state.
Here are my reviews of the protein powder samples they sent me.  They did offer to send me a full tub of one flavor but I wanted to have the chance to try a variety.
My SpeedLoss review: Power Protein Powders

Atomic Chocolate-
The chocolate protein powder was so smooth and not chalky at all.  And no bad aftertaste!  This protein powder had flavor chips added which didn't grind up and were at the bottom of my smoothie cup (I added peanut butter, 1/2 banana and ice).  I tasted a few of the flavored chips at the end and they were good but I didn't finish them.
Butterfinger Fantasy-
The Butterfinger protein powder was very sweet so I added a tablespoon of peanut butter to take the edge off and it did the trick.  It was delicious this way.  It was the same as the chocolate protein powder, smooth, not chalky and no aftertaste.  I didn't see any flavor chips in this one. If there were any, they were ground up in the blender.  I also added 1/2 banana and 1 cup almond milk.  Such a treat!
Cool Mint WHOA-
This protein powder was a light mint flavor.  I added almond milk and ice and blended it right up.  Same review as the others, smooth, not chalky and no aftertaste.
My favorite so far is the chocolate.  These smoothies have held me over nicely until the next meal and I am extremely impressed with the taste!
SpeedLoss System and Products
Just so you know, their system comes with detox juice, soups, protein powders, snacks and supplements.  And they are marked with Day 1, Day 2 and so on so you know exactly when to take them.  Of course there are instructions in the box on exactly what you need to do. I do like that they include a recommended cardio and activity plan too.
SpeedLoss products are gluten free, natural (no artificial sweeteners) and made from dairy free whey protein isolate or egg white protein. They do have a vegetarian option for their program but not a vegan one at this time. One thing that stands out to me is that everything is made to order, so it's FRESH.  It could take 14-21 days to get your package depending on your location BUT you'll know it's fresh and that it wasn't sitting on some shelf in a warehouse for long periods of time.
If you go to the Questions & Answers section on their website, you can learn a lot more and you'll find a button to click on to see their ingredients.  Again, I have not personally tried their program but you can read quite a few testimonials on the main page of their SpeedLoss website.
I'm really glad I found a protein powder I enjoy.

*Sponsored by SpeedLoss. All opinions are my own.