Disclosure: This post may contain referral/affiliate links.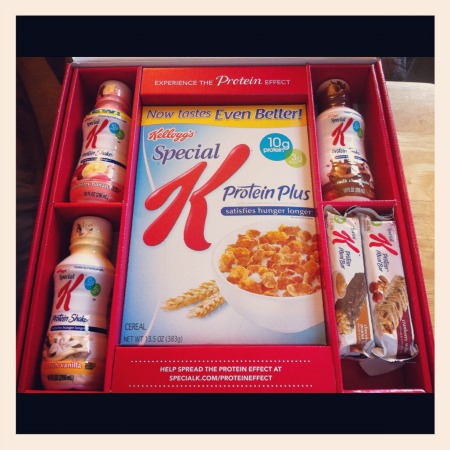 The Protein Effect!  What is it?
The ability to lay the smack down on hunger when you start your day with a winning combination of protein and fiber from Special K.
The new and improved Special K products will keep you fueled and help outsmart hunger.
Are you eating breakfast? lunch? dinner? healthy snacks?  Keeping fueled throughout the day is very important.
Here are some stats for you from Special K:
Some research suggests people who get 30% of total calories from protein will feel full longer. Go willpower!
Higher protein intake may be beneficial for weight management
Protein helps satisfy hunger and in turn helps you stay on track
See: The Protein Effect by Special K
I have had the opportunity to check out and review the newly reformulated Special K Protein Plus cereal and the new bar and shake flavors.  I love them all!  Cereal is one of my favorite breakfast treats and I like to have on the go options like the bars and shakes in a bottle.  Everything is moderation is my motto.
Product review:
Special K Protein Plus Cereal:
I loved it!  I had the cereal for breakfast quite a few times and it was very tasty. Not dull like some cereals.  I enjoyed it with 1/2 banana and unsweetened almond coconut milk and have since added other fruit in as well like raspberries and blackberries.  I tried the cereal both with and without a pack of Truvia and I liked it both ways.  You definitely don't need anything extra!
Special K Protein Shakes:
The chocolate protein shake was my favorite, so smooth & tasty.  And it has 10 g protein!  A great product to take when you are on the go and don't have time to have a full breakfast.
Special K protein Bars:
The Chocolatey Chip protein bar has 10 g protein and 5 g fiber.  This protein bar is sweet.  I think I would cut these up and put them in baggies for small  quick snacks to take any sweet cravings I might have away.    These protein bars would also make a tasty treat for those on the go.
There are other bars left in my goodies box to try but like I always say all things in moderation.  As I try them, I'll be posting my thoughts on Instagram and Twitter. I haven't been disappointed yet so I'll be taste testing those throughout the remainder of the month.
As much as I love the bars, they are a bit too sweet for me to have the entire bar at one time so like I mentioned above, I will cut them up to taste when I get the urge for something sweet.  Added bonus, they will last longer around here!
You can follow Special K on Twitter and use the hashtag #theproteineffect to see how others feel about the products and share your experience.  Special K is on Facebook too!
So tell me how do you outsmart hunger?

FitFluential LLC compensated me for this campaign.  All opinions are my own.