Disclosure: This post may contain referral/affiliate links.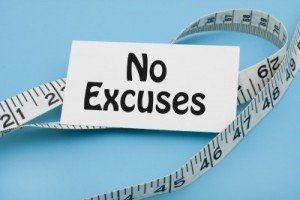 Excuses, excuses, excuses
It's time to get rid of them!  I personally know how easy it is to give in and use excuses when it comes to living a healthy lifestyle.  I have done it way too often.  And still catch myself doing it sometimes.
We will never get anywhere if we keep making excuses.  We have to push through and make it happen.
Here are some excuses I hear often and some solutions for them.
Excuse #1
I'm too big to workout
Solution:  Not going to cut it!  Everyone can find a way to move whether it's walking (the best way to start), recumbent bike exercise or even moving while sitting down.
Excuse #2
I don't have a home gym like you
Solution:  Go join a gym!  We were gym members of a few fitness centers before we remodeled the garage into a home gym.  We drove any where between 20-35 min. just to get to them. There are a variety of fitness centers out there from the more expensive ones with tons of classes, equipment, personal trainers, etc. to ones that have limited equipment and no trainers.  Many are even open extended hours or even 24 hours a day.
Excuse #3
I can't afford to join a gym
Solution: Get walking!  And if you can invest in yourself just a bit, buy some hand weights, exercise bands, an exercise ball and maybe a mini trampoline.  A few workout DVD's would be great too.  That is actually exactly how I started out and lost my first 70 lbs so I know it can be done.  I worked out in our bedroom, living room, my home office and outside.  If you have a dog, take them for a walk or go to the dog park.  Go find some stairs to climb or run the high school track.  Got a bike?  Go for some trail rides.  You have plenty of options in this beautiful world of ours!
Excuse #4
I have a headache so I can't workout today
Solution: BLAH! I know how bad headaches can be but just do your workout.  I used to get frequent migraines and regular headaches but once I got in a workout it would 9 times out of 10 go away.  Just this week, I had a massive migraine and went to do 20 min. of core and 20 min. of spinning and my headache was fully gone after my shower.  You might give it a try sometime.  I'm sure it has something to do with blood flow circulation.  Some people will tell  you high impact workouts should not be done with a headache, I say phooey. Obviously you'll want to check with your doc before any exercise program but I have had success getting rid of my headache almost every time.
Excuse #5
I can't cook
Solution: Sure we can!  I have taken it upon myself to stop making that excuse and start learning.  I'm beginning with crock pot cooking (vegetarian of course) once or twice a week and almost every meal has turned out.  Go to Pinterest and find  yourself a healthy recipe to TRY.  Cooking at home will also help you save money!  You can find the healthy recipes and crock pot/slow cooker recipes I have pinned on Pinterest.
Excuse #6
I don't have time
Solution:  Make time!  I'm sure you have time to sit down on the computer and play on Facebook or Twitter, watch a TV show or something else.  Make it a point to put a workout on your calendar like you would a business meeting.  This is your time and you NEED to take it.  We ALL have busy lives, some more than others of course but it's still no excuse.
Excuse #7
I can't afford to eat healthy
Solution: You can't afford NOT to eat healthy.  Eating healthy is not as expensive as you think.  As long as you don't buy all the specialty packaged stuff or hit up Whole Foods and Trader Joe's all the time (umm like me lol).  Get veggies (fresh/canned), fresh fruits, fish, oatmeal, beans, lentils (my favorite), tuna or make your own vegetable soup, things like that.
If you can't afford to don't buy things like boxes of cereal, juices (they aren't good for you anyway), etc. then don't.  You might also buy in bulk if you have a large family.
I don't personally use coupons but I do know there is a ton out there so if you are on a food budget, take the time to look for coupons and special offers.  Do a bit of blog searching too for tips on eating healthy on a budget.
So there you have it, 7 excuses I hear all the time and many I have used in the past. I'm still not perfect and trying to break through some excuses of my own. You are not alone but it's time to get rid of the excuses if we want to be successful at weight loss/healthy living.
What is the biggest excuse you have had to overcome? What is the worst excuse you hear often from others?