Disclosure: This post may contain referral/affiliate links.
Happy Monday!  Do you have your Menu Plan Monday posted?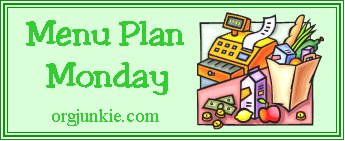 Monday-
Pasta w/ground beef mushroom sauce
Tuesday-
Tuna & Soup
Wednesday-
Chicken, couscous, veggie
Thursday-
FINALLY I think I will get to fulfill my craving for a salad bar at Sweet Tomatoes restaurant and have Yogen Fruz for dessert.  Have you ever been to either of these? Do share!
Friday-
Homemade pizza (breadmaker dough)
What is on your menu for the week?
This Saturday we have a family reunion and I'm racking my brain trying to figure out what to make to take there.  I was thinking for sure I'll get hummus from Trader Joe's and serve with crackers.  But I think I would also like to bring some type of appetizer/side dish and one dessert.  The healthier the better of course!  If you have any ideas, feel free to share.