Disclosure: This post may contain referral/affiliate links.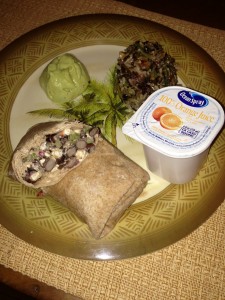 Eat Healthy in 2013
Over the last week, I had the great opportunity to try out the Diet-to-Go vegetarian diet delivery program.  I was sent 9 meals, a mix of breakfast, lunch and dinner.
I do not cook so this was perfect for me.  And I'm sure hubby didn't mind not having to cook anything separate for me this last week.  I'm a vegetarian and he's not so sometimes that can be a struggle but we always make it work. This just made it much easier.  I could totally get used to this!
Diet-to-Go is one of the most inexpensive & healthy diet delivery services out there on the market.  It really doesn't compare to most because Diet-to-Go ships out FRESH meals that need refrigeration. Most of the orders will arrive overnight, frozen on dry ice.  Diet-to-Go was rated as the #1 diet delivery service by Epicurious.  And I can totally see why!
I love the fact that they don't make you sign a contract so there is no commitment required.  And of course, 100% satisfaction guarantee doesn't hurt either.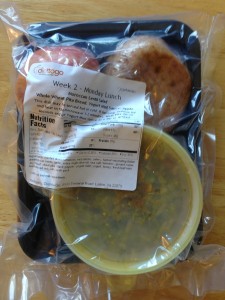 They have 3 unique menus:
Low-Fat
Vegetarian (my choice)
Low-Carb
And they have 20 balanced and portion controlled plans to choose from!
My Diet-to-Go vegetarian meals:
Black Bean & Feta Cheese Wrap, Guacamole, Wild Rice Salad and Orange Juice
Veggie Tamale Pie, Corn on the Cob, Sesame Breadsticks
Mushroom Strata, Soy Sausage, V8 and Yogurt drink
Fajita Omelet, Mozzarella Cheese, Seasoned Artichokes
Vegetables in Curry Sauce, Basmati Rice, Indian Bean Mix
Raisin Bran Muffin, Strawberry Preserves, Yogurt and Orange Juice
Eggplant Parmesan, German Veggie Blend, Sesame Breadsticks
Moroccan Lentil Salad, Whole Wheat Pita Bread, Yogurt Mint Sauce and Apple
Baked Spaghetti Pie, Cauliflower, Parmesan Cheese and Sesame Breadsticks
Overall the meals were tasty!  I absolutely loved the Black Bean & Feta wrap, mushroom strata with soy sausage and the fajita omelet with artichokes.  I truly loved it all except for one item, the veggie tamale pie.  I LOVE spicy foods but this was over the top and way to spicy for me to really enjoy.  I did love the corn on the cob that came with it though.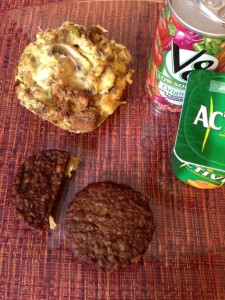 Another thing that was odd was a few meals mentioned breadsticks but the only one I got breadsticks with was the last meal, the baked spaghetti pie.  I wouldn't have eaten them anyway but I did wan to mention it.  Some of the meals had a bit more sodium that I am used to eating but everything was balanced out nicely.
I microwaved all my meals however some had options to heat in oven.  The meals that were sent had the week, day and meal listed on the label (ie; Week 2- Sunday Dinner) and I'm not quite sure if there was a science to eating them in any specific order.  I personally chose which ones I felt like eating at the time.
It's such a great value and truly a great way to start off the new year in a healthy way.  According to a University of Washington study published in the Journal of the Academy of Nutrition and Dietetics, high-quality, healthy foods cost on average $18.16 per 1,000 calories for the ingredients alone.  The reason it's a great value is that you get fully prepared meals from Diet-to-Go for just $17.02 per 1,000 calories.  Everything you need is included which means no shopping (YEAH), no complicated recipes (double YEAH especially for me) and no messy clean up.  Kind of like  your own personal chef.
A lot of us have goals to eat a lot healthier this year so this is the perfect option.  The diet meal plans are controlled portions of real, whole foods.  No junk!  The meals are balanced in nutrition as well (protein, complex carbs, healthy fats and fiber).  Diet-to-Go is in the business to help people lose weight, quickly, safely and naturally by eating delicious, healthy fully prepared meals.
1,000 meal giveaway
Diet-to-Go is doing a Facebook giveaway of 1,000 meals.  You can enter for a chance to win 1 month or 1 week of free meals from the Diet-to-Go diet delivery program. There are many chances to win.
If you would like to try the service out for yourself, use coupon code newyear2013 to get 25% off any meal plan. This is valid until Jan. 8th.
I would love to hear about your experience if you decide to try it or if you have already tried it.


P.S. You can see more of the Diet-to-Go meal pictures I took on my Instagram profile!
*FitFluential LLC compensated me for this Campaign.  All opinions are my own.*