Disclosure: This post may contain referral/affiliate links.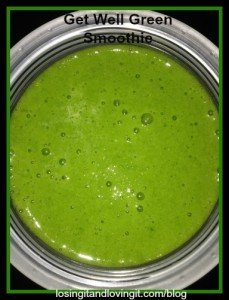 I made a great green smoothie yesterday.  I have been under the weather and this was something yummy to put in my body.  This Get Well smoothie turned out a beautiful green color as you see here.
I love making green smooothies and trying out different combinations. Here are some of my different healthy smoothie concoctions.  I have been using the Magic Bullet blender for years.  It makes my smoothie process so so simple and easy to clean up too.
We have been juicing as well and I have a plan to post about that as well.  We are still playing around with the new juicer and trying different fruits and veggies.  It's been quite the experience.
Here is my Get Well green smoothie recipe.  Hope you enjoy!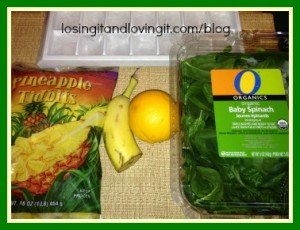 Angie's Get Well Green Smoothie
1/2 banana
1 orange
1 large handful of spinach
1/2 cup frozen pineapple chunks
1/2 cup water
3-4 ice cubes
Now it's time to get blending.  Go make yourself a healthy smoothie.
Do you have any favorite green smoothie recipes?