Disclosure: This post may contain referral/affiliate links.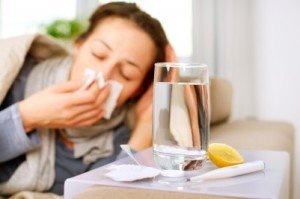 So as I reflect back on January, I had good intentions to start the  year out great.  But life handed me other stuff to deal with.
I was traveling the first part of the month and came home sick.  I was sick for 5 days and thought everything was fine and dandy.  We went to Oklahoma for 5 days and the moment we got back, I was sick AGAIN.  This time worse than before.  The nasty flu that everyone was having is what I got.  Fever, cough, stuffy nose, lethargy, you name it, I had it.
So here we are on February 1st and I'm still stick.  I do however feel much better and haven't had a fever for a few days.  Good sign!  I'm finally able to get things done that I had no energy for like laundry, vacuuming, dishes, etc.
This really is the 1st day that I have been excited for what's ahead.  I know I need to give myself a few more days and then I travel again.  Please please don't let me come back sick.  I should just wear a face mask on the plane and in the airport.  Believe me I'll be stocking up on meds that is for sure.
So needless to say, I didn't get off to a great start on my 13 in 2013.  But it's only 2 months in so I'm ready to tackle these goals.
As for February goals, I just plan to get better and start working out again on a consistent basis.  When I return from Atlanta from my upcoming business trip, I'm going to see if I can't start on the 100 Day Burpee Challenge.  I'm not that great at them but it will be a challenge.
Since the Burpee challenge starts today, I will be starting it on Day 12 so I'll have to start doing 12, then add one a day after that. Should be interesting!
I'm not committing to any other challenges but if you know of any, feel free to link up in the comments. I'm really looking forward to getting back into the swing of things.  The only sad thing is that I lost my online personal trainer (due to other obligations) however Tina is still doing the Best Body Bootcamp so that will be awesome.  I'm not part of this curremt round but I will be in the next one.
For now I'm going to follow all the plans I had from previous months training with her, maybe mix them up a little and add in some new things.  I'll be doing more shadow boxing with gloves, Turbo Jam and Turbo Fire, attempt some running, hopefully we'll find some good Pilates workouts and I hope to even try some yoga.
On my April 1st birthday wishlist is an XBOX 360 with Kinect and some Just Dance games and other fitness games. How fun would that be?  We do have Wii Fit but I never really got into it. Maybe I'll try again.
Off to have dinner and hopefully a relaxing weekend although I need to get some things done around the house that I have put off while sick. Plus we need to run some errands.
How did January go for you?  Do you have anything planned for this weekend?