Disclosure: This post may contain referral/affiliate links.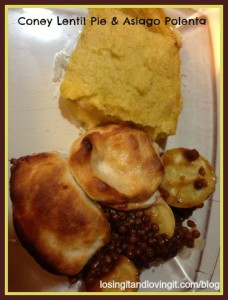 Had a hard time trying to figure out what to call this meal.  Went from BBQ to coney sauce and Shephard's pie to lentil pie.  So we came up with Coney Lentil Pie.  That should work.
I was craving lentils, we needed to use up some veggies, the polenta and we felt like biscuits.  So I came up with the idea of a shephard's pie like meal except no potatoes and not as many veggies.
We'll call it the Coney Lentil Pie with Asisago Polenta. I'm sorry we don't have exact measurements, hubby doesn't roll that way.  And I have to say I am impressed that I came up with an idea without a recipe.
As we were preparing to make the lentil pie, I found a roll of polenta in the fridge that was about expired. So hubby thought we could process it with some asiago cheese and put it in the oven like cornbread.  And the outcome was nothing we expected, it was OMG awesome.
All that time I have spent watching the Food Network while I was sick is paying off. It has gotten me a bit interested in learning how to cook more.  That is one of my goals for 2013 so I'm on my way. All we need is a bigger kitchen.
On to the recipe…
Coney Lentil Pie with Asiago Polenta
Sauce:
Ketchup
Mustard
Celery Salt
Powdered mustard
Worcestershire sauce
Brown sugar
Eye ball it!  Kev threw it all together for what he thought would be enough for a whole package of Trader Joe's cooked lentils and cooked on stove top for 20 minutes. So.good.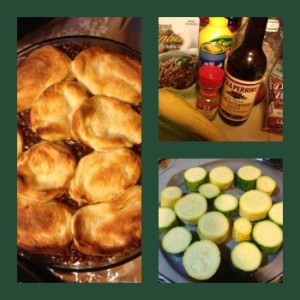 Then grab these ingredients:
Trader Joe's cooked lentils
Canned biscuits
Zucchini
Yellow squash
Get a pie dish out and spray the bottom with olive oil.
Wash and cut zucchini and yellow squash into larger round chunks.  Place these in bottom of pie dish.
Mix the lentils with the coney sauce and pour/spread over the veggies.
Open can of biscuits and stretch each one to cover a section of lentil mixture. When you are done, biscuits will cover the top of the lentil mixture.
Brush a little butter on biscuits
Bake in 400 degree oven for approximately 30 minutes.  Check to make sure the biscuits don't burn during the process.
The biscuits might look like they are uncooked but they are just wet from the lentil mixture.
Serve and enjoy!
Asiago Polenta
1 roll of cooked polenta (Trader Joe's brand)
Asiago cheese
Cut up slices of polenta and shred/cut up asiago cheese.
Place in food processor. Pulse until all is processed.
Add polenta mixture to small cast iron skillet.
Bake in 400 degree oven for 45 minutes.
There you have it. You may or may not want to serve the above together but we enjoyed it.
It may have been a bit much with the biscuits and polenta but we wanted to make the polenta before it expired and of course we had to sample it.
Absolutely loved this meal. Yum, yum, yum.
Do you have a favorite lentil or polenta recipe?  Please share!