Disclosure: This post may contain referral/affiliate links.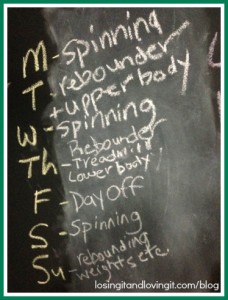 I had a pretty good week of workouts I would say.  I blew the circuit in our home gym (remodeled garage) because I had 2 heaters running, the stereo, treadmill, lights on, etc.  Kev fixed it but I have to be careful.
It's so dang cold in there, I have been wearing compression arm sleeves and gloves when I workout (now I just need to find my shin sleeves).  We totally need a new garage door as our current one is not very well insulated.  But lots of good moves this week kept me warm too!
Yesterday we juiced for breakfast and lunch and today we juiced for breakfast. I'll be doing some posts on juicing here soon. If you juice, have a juicing blog, etc. and would like to do a guest post here, that would be awesome.  I'm still torn whether or not I'll participate in the 10 juice fast hubby wants to do.  I guess it won't kill me but I struggled yesterday. My stomach was growling and when it came to dinner I went crazy.  I'll have to have a TON of will power that is for sure.
Off to plan this weeks meals.  Here are my workouts for the week:
Monday-
*Spinning
Time: 31 min.
Calories burned: 433
Tuesday-
*Rebounding, step and upper body w/weights
Time: 30 min.
Calories burned: 374
Wednesday-
*Spinning
Time: 30 min.
Calories burned: 405
Thursday-
*Treadmill, rebounder & lower body
Time: 30 min.
Calories burned: 386
Friday- Day off
Saturday-
*Spinning
Time: 30 min.
Calories burned: 407
Sunday-
*Cardio, weights, abs
Time: 25 min.
Calories burned: 271
Today was a mix of rebounding, step, ab work, weights, lower/upper body workouts.  Didn't know what I wanted to do and figured I probably should do something other than spin ha ha
I'm ready for another full week of workouts. My goal again this week is to get in at least 5 days. I need to add some boxing back into my life so I look forward to that.
Did you have a good workout week?