Disclosure: This post may contain referral/affiliate links.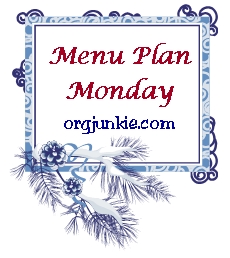 OK, maybe that is a bit of a reach but I have been having fun trying new recipes.  And most of them are turning out!
Cooking more was one of my big goals for this year. Last week I made a crock pot veggie lasagna and homemade veggie burgers that turned out well.  Looking forward to another week of yummy meals.
We'll see how they turn out.  Keeping some of the same meals on the menu this week but I'll try to change it up.  So here we go, this is the plan for this week.
Monday- Pizza
Tuesday- Fish, veggie, cauliflower potatoes (appetizer artichoke crab flat bread)
Wednesday- Breakfast for Dinner (Sweet potato pancakes w/cranberries)
Thursday- Grilled Scallops with Orange Scented Quinoa (on the menu from last week that never got made)
Friday- Homemade veggie burgers, sweet potato fries and veggie
The plan is to juice a bit this week too.  I'm not sure how we will fit that into our schedule since hubby leaves so early in the morning. I want to drink fresh juice, not something that has sat in the fridge so we'll see how that all goes.
What is on your menu plan for this week?