Disclosure: This post may contain referral/affiliate links.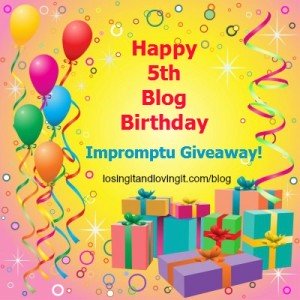 February 22, 2008 – When It All Started

Last Friday this blog celebrated it's 5th birthday.  I thought the best way to celebrate 5 years blogging here on Losing It and Loving It was with an impromptu giveaway.
One lucky winner is going to get a box of goodies from me. I have no clue yet what exactly will be in that box but it will probably contain a workout DVD or two, a healthy living book and more.  AND my good friend Diana has kindly offered to give you a copy of her very popular Craving Secrets ebook. I have had this book for years and it's great.
I'm doing this to THANK all of you for being with me over the last 5 years and for making this blog a success. I get so much inspiration from so many of you to keep the blog going and to keep pushing through to live the best life possible. I still have a long way to go but without all of you, my Polar USA and FitFluential peeps and my family & friends, I would not have made it this far.
So I wanted to celebrate all of YOU with a little impromptu giveaway. Just a little way to say thanks!
No huge steps to jump through to enter, just answer one or more of the following questions and share this post with your friends and family.  That's all.
My big questions:
What is your favorite workout?
Do you like to cook?  If so, what is your favorite EASY recipe?
If you could go anywhere in the world, where would it be?
What would you like to see more of on my blog?
Giveaway Info:
This giveaway is open to everyone.  IF a winner outside of the U.S. is chosen,  you will get a gift card instead of the goodie box.
Required entry:  Answer at least one of the questions above (but more than one would be fun to read *wink*)
Additional daily entry:  Share this post on your favorite social channel, blog, etc.
Separate comments for each entry please.  You can enter up to midnight Eastern on Tuesday March 5th.  Winner will be chosen by random.org on Wednesday, March 6th.
Have fun!

P.S. And here's a deal for you. Ellie mixes essential fashion-forward looks with high-tech performance activewear for the most stylish fitness experience.